Many women ask, 'Why won't my husband fight for our marriage?"  The answer is complicated but usually falls into one of two categories: Analytical reasons and Emotional reasons.
In this two-part series, we will explore both. This is Part 1. Jump to Part 2 here.
I don't want this to be too 'techy' or 'psyc' heavy; my goal is to help you clarify what is happening in your marriage so you can 1) know where you are, 2) create a game plan to turn it around. Hopefully, you will be able to get your husband to re-engage your marriage.
One thing to keep in mind as you read, I've broken these down into sections. The first (as mentioned above) deals with analytical reasons. The second focuses on the emotional reasons. I encourage you to understand both.
This post contains some affiliate links to products that I use and love. If you click through and make a purchase, I'll earn a commission, at no additional cost to you. Read my full disclosure here.
What To Do When Your Husband Refuses To Work On Your Marriage?
People do things for a reason. Keep that in mind as you read. The underlying reasons are like the cause and effect laws of physics. Everything happens because something else happened.
How does this apply to marriage? If your husband is responding to you in a way you dislike, there is a reason behind it. He does what he does because of something.
I'm not suggesting you DID something to make him respond this way. I AM saying that something happened. That doesn't need to imply you are the reason. The goal is to find out why he is not engaged in the marriage and seek a solution.
The problem is many people jump to conclusions and implement solutions that do more damage than good.
We need to approach this like a doctor diagnosing an illness.
What Does a doctor do when you don't feel good? He asks questions, runs tests, and uses analysis to eliminate options and isolate the real problem.
We need to do the same when it comes to working on our marriage.
Don't waste time on things that will not move your marriage forward. Instead, analyze the problem and use logic to isolate the real issues.
So, what do you do when he refuses to engage? You find out why. That's the starting place. Until you know why, all efforts are a stab in the dark at best. Most likely, they will backfire.
The image below breaks down the two aspects (reasons, causes, etc) why your husband doesn't engage and fight for the marriage the way you would like. We will explore the first of those in this article – the analytical side of things.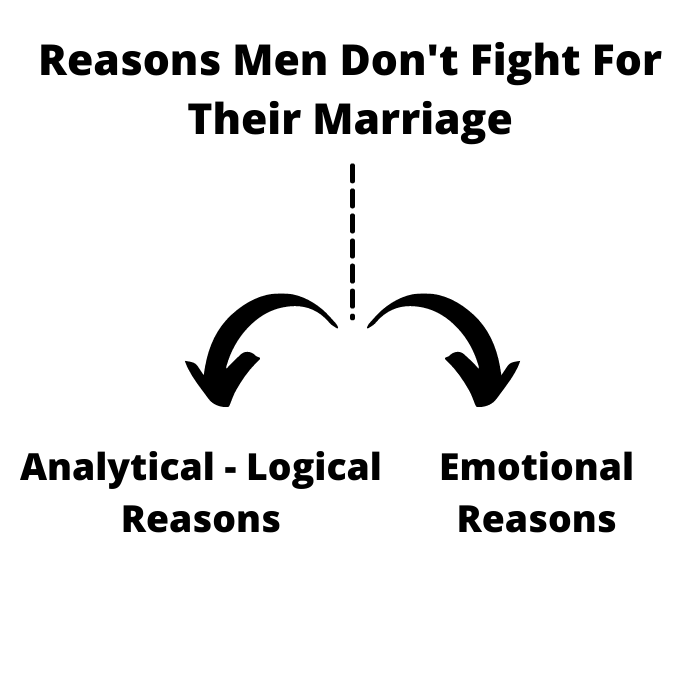 Let's explore why he may be disengaged.
Why Your Husband Doesn't Fight For Your Marriage: Analytical Reasons and Logic
By analytical I don't necessarily mean logical. We all know logic is often driven by emotions (we will explore that in the next section). Analytical reasons are ones that rely on analysis over high intense emotion.
These reasons use logic as a source of deduction. In other words, we are drawing conclusions from the data and logic.
To better understand, let's dig in.
It makes sense that if your husband doesn't want to work on the marriage it is for one of two reasons:
He is not interested
He is interested but something is standing in his way
Does that make sense? It is using simple logic to dig deep to uncover what is going on in his mind. It looks like this on a chart: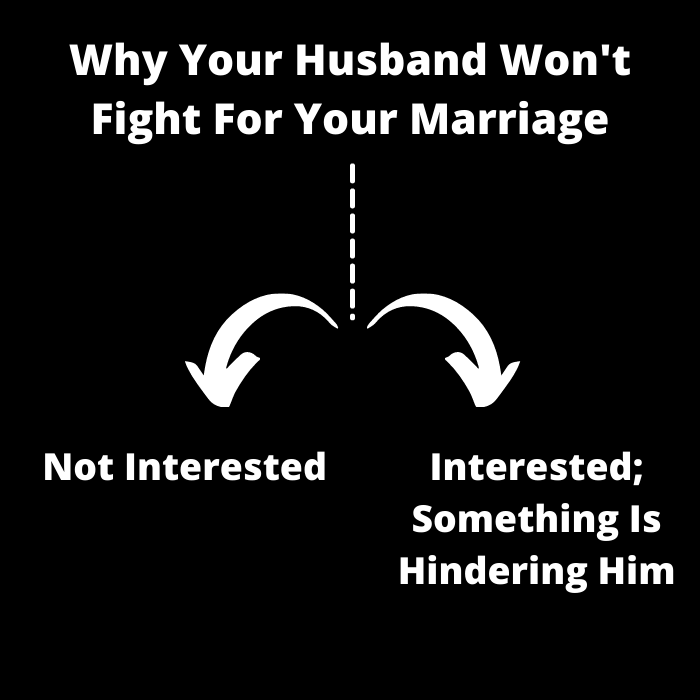 Study the chart. It might sting to realize your husband may not actually be interested in working on your relationship. As painful as it might be to come to that conclusion, it is necessary to know (if it is true).
After all, what you do if your husband is not interested is quite different than your course of action if truly wants a great marriage but doesn't know where to start. Your approach is vastly different in both of those situations.
As Dr. Lee Baucom teaches, every marriage relationship crisis has stages. What you do in one stage can actually hurt the relationship in another stage. You can't treat each problem the same. And you should not respond the same if your spouse doesn't want to work on the marriage.
There is hope. But the plan of action is different.
As we study the chart you notice the options: He is not interested and he is interested but something is standing in the way. Let's explore the first – He is not interested.
8 Reasons Why He May Not Be Interested in Working On Your Marriage.
While there are many reasons men lose interest in fighting for their marriage, these eight are a good place to start. 
Remember, this is the side of the chart (image) we are working on: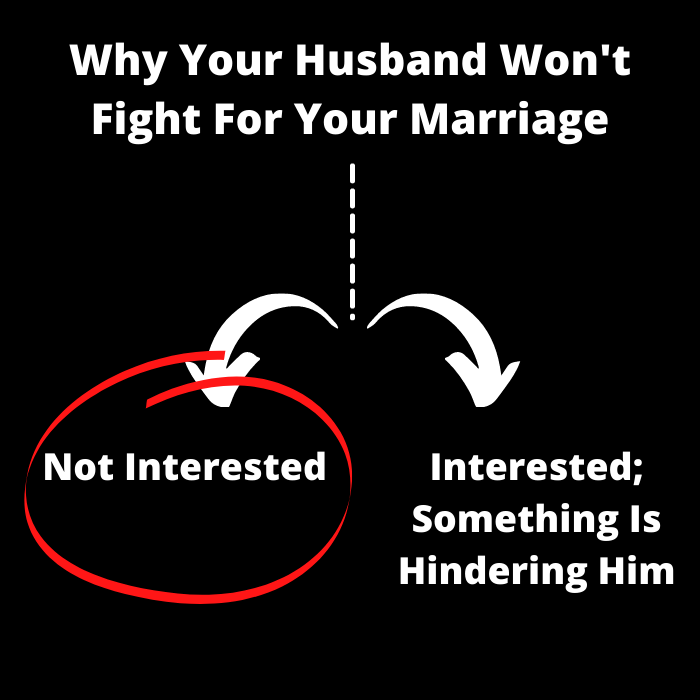 1) Is There Someone Else
I don't suggest going to forums to get marital advice, but I do find it interesting that the first conclusion people draw when a husband stops working on the marriage is infidelity. 
As you can see from the list below, this is far from the number one reason men disengage from a relationship. While it COULD be the case, it should not be the first place to look.
I list it first to get the bad news out of the way. There are other signs to look for if your spouse is cheating, so don't jump to irrational conclusions.
Now that we've got that out of the way:
If there are legitimate signs your spouse is being unfaithful, it could be the reason he is no longer interested in making your marriage work. If this is case, you have hard decisions to make. Do you try to work through the issues? Is he even willing to reconcile with you? Is it even possible to repair the marriage?
These are questions you must face. 
For help diagnosing an affair, read this.
2) Is Pornography Killing His Desire?
Researchers indicate one of the downsides (there are many) to pornography is it actually diminishes sexual desire. This can lead to a loss of passion concerning the relationship as a whole. 
Gary Wilson has studied pornography addiction for decades. He notes at least six negative effects it has on the male brain:
Escalation – the need for more graphic material
Difficulty Concentrating
Inability to Perform Sexually
Social Anxiety
Irritability
Obsessive-Compulsive Symptoms
These combined effects can cause a downward spiral of anti-affection in men. In turn, it interferes with his desire to work hard at making any relationship work.
3) There Is A Wound In The Relationship
In my experience, this is one of the most common reasons men fail to engage in fighting for their marriage. 
The wound isn't necessarily something you (the wife) did; it could be from past baggage. But somewhere along the line that wound was exposed and re-hurt. This wound is now influencing (controlling) his desire to fight hard for the marriage.
Imagine this wound in his soul (heart) as a physical wound. What happens when you have a sore on your body? You protect it. 
I played High School sports. In my Senior year, I dislocated my left shoulder. It was very painful. 
For weeks, my natural response was to 'favor' that shoulder. When someone ran past me in the hall at school, I would turn to protect that arm. It was amazing how natural it was to enter self-protection mode. It was an unconscious reaction.
I believe we respond in similar ways to emotional wounds. Many times we put up defenses without realizing it.
When this happens, men tend to withdraw and disengage.
Forcing them to talk, go to counseling, or working harder on the relationship is counterproductive. This doesn't mean they don't care. It is a sign they are hurt (which most men do not want to admit).
To get them to re-engage with you, the wound has to be healed.
So, how to work to heal the wound? It's often complicated. We have resources to help, but the most effective way is love.
Women aren't the only ones who need and desire love. Men do too. It looks different, but everyone desires love. We all want to be loved, accepted and appreciated. When this atmosphere is present, it creates a better opportunity for people to be open and transparent.
Women aren't the only ones who need and desire love. Men do too. It looks different, but everyone desires love. We all want to be loved, accepted and appreciated. When this atmosphere is present, it creates a better opportunity for…
Click To Tweet
4) He Wants Freedom.
He sees marriage as bondage, and he wants his freedom again.
This usually is triggered by something. It could be a flirtatious co-worker, seeing his friends 'live it up', or simply frustration with the condition of your relationship.
Whatever the trigger, his desire for freedom is stronger than his need for connection. 
This is a sign of a troubled marriage. It indicates unhappiness in the relationship and can't be chalked up to simply a lack of communication. It is deeper than that.
His assumption about marriage is skewed. Somewhere along the line, his view of a long term relationship devolved (deteriorated) into the concept of bondage and loss of freedom. That concept has to change before he changes.
5) He Doesn't See A Benefit In Working On The Marriage
I discuss this in more detail in the next section, but it's worth mentioning here.
We do things for a reason. Everything is connected to a payoff. The two most powerful influences on our decisions are 1) avoiding pain, or 2) feeling pleasure.
Almost every decision is rooted in addressing those two payoffs.
When your husband fails to connect with you and loses interest in working on the relationship, it is a sign he either doesn't feel the pain of disconnecting from you, or he has no hope of pleasure in the marriage.
When your husband fails to connect with you and loses interest in working on the relationship, it is a sign he either doesn't feel the pain of disconnecting from you, or he has no hope of pleasure in the marriage.
Click To Tweet
Give thought to that statement. Ask yourself some hard questions.
Is he avoiding the pain of working on the marriage?
What is the positive payoff he will get if he fights for the relationship?
Does he feel the pain of disconnecting from you?
Is he finding his pleasure somewhere else? Or in something else?
These are tough questions to think about. But it's vital to understand why he is disengaged and unwilling to work for your marriage. Understanding that everything is motivated by either pain or pleasure, try to figure out which one is interfering with his desire to have a better relationship.
6) He Is Angry and Resentful
This is connected to emotional wounds. These wounds often lead to disappointment. From there he becomes disillusioned with life (your relationship is a casualty of this inner battle).
When anger goes untreated, it leads to resentment. And resentment is the wall that keeps your relationship unapproachable.
For more information on how anger will wreck your relationship, read our series on Anger in the Family.
7) Marriage Is Too Much Work
Maybe your husband sees marriage as a workload instead of a pleasure ride. At the risk of sounding superficial, it's important for men (all of us actually) to have an escape from the pressures of life (work, raising kids, politics, money issues, etc). 
When marriage becomes one more thing in the list of pressures and problems, some men choose to opt-out.
Is this is a cop-out? Sure. 
Is it childish? Maybe.
Yet, this doesn't help us get your marriage re-engaged. I doubt confronting him about this childish behavior will reverse the situation.
The partial truth buried in this 'reason' is marriage should be the escape we desire. Think about this. Don't you want your relationship to be the 'place where he runs to find hope, life, love, joy, excitement…you can fill in the blank whatever he is seeking. ' When marriage becomes this, he will seek it out. No amount of work will hold him back. Because it is something he desires and wants.
Many women complain, 'This is unrealistic!' Is it? Before you give your final answer on the matter, really consider what this implies.
This doesn't mean we bury our heads in the sand and refuse to deal with problems. On the contrary, healthy marriages know how to solve problems AND keep marriage protected from all the things that erode life. 
Marriage should be the most exciting adventure and happiest experience we encounter. When it becomes too much work, most people just opt to disengage and seek escape somewhere less threatening.
The challenge we face is to solve problems, be adults, and keep marriage fun. We will talk more about this (and put it in perspective below).
8) He Is a Narcissist
The final reason I need to mention is your husband may be a selfish narcissist. 
We talk about narcissism here.
If your spouse has these tendencies, you could be fighting an uphill battle. It is possible to get your marriage on track and workable, but you need to know what you are up against.
Generally speaking, narcissists do not change. Can they? Maybe. Should you count on it? No.
Here's why.
You will find yourself in an endless loop of trying to find out what pleases them only to discover it's a game to them. Narcissists love the drama of seeing you scramble to find out what they need and want. It's fuel to their ego.
You must break this cycle. You do so by creating a life of your own.
I'm not suggesting divorce or taking the easy way out (there is no easy way – divorce is hard); rather I'm suggesting you need to build a life for yourself and find purpose outside of your marriage.
This doesn't mean leave your husband out. It does mean, don't reduce yourself to the role most narcissists desire for you – servitude. Loving your husband well is one thing; being a doormat and slave to their desires and tantrums is another.
One of the best things you can do is live with purpose. Find a higher meaning and cause you can invest your heart in. 
If your spouse is not interested, it is more than likely for one of these eight reasons, or a combination of them.
What about men who are interested, but don't engage?
These eight reasons fall on the 'No Interested' side of the chart. What about men who are interested, but something is standing in the way?
4 Things That Might Be Holding Him Back from Working on the Relationship?
Here are four things you need to know about men who really want their relationship to work, but they seem stuck. Let's look at this side of the chart.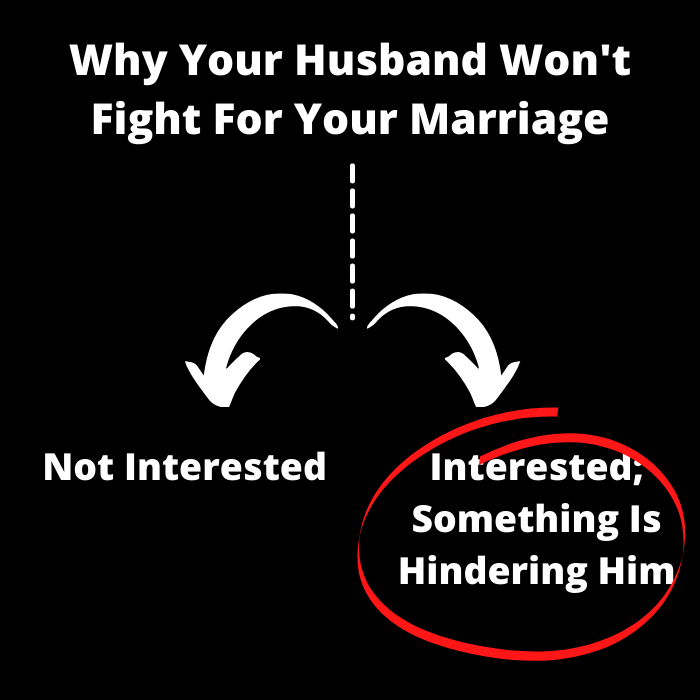 1) He Is Embarrassed So He Doesn't Want To Try
I've often heard women are more intuitive than men. Not sure how scientifically accurate that is, but from experience I see more women wanting to work on their marriage than men. By that I mean, they seem to be the ones who buy the books, suggest counseling, and attend conferences and workshops.
This doesn't mean men don't care. In fact, most of the men I talk to want to have a great marriage (it matters to them) and they want to be a great husband to their wife. 
Many times they are embarrassed that they don't know what to do to 'make their wife happy.'
This seems to be an elusive journey for most men. The desire is there, the know-how is not.
This causes some men to sit on the sidelines and let their wives do most of the heavy lifting. It's not fair, and it doesn't help the marriage, but it's safer (for many) than the risk of embarrassment.
In my opinion their focus is wrong. Instead of wondering what they can do to make their wife happy, they should focus on becoming the man they truly want to be. The answer is not necessarily in 'doing something' but in 'being someone.' When this gets out of kilter, it throws us off balance. Our pursuit is wrong, so it is inevitable we arrive at the wrong locaiton.
2) He has a Fear of Failure
No one likes to fail. Especially men who were raised to measure happiness, success, and accomplishments by external factors. This leaks over into marriage. Most men want to 'win' (not in the sense of competition with their spouse, but in terms of having a successful marriage – however they define it). 
The fear of failure paralyzes many men. Instead of blasting ahead and getting it wrong, many men choose to marginalize their efforts. That way they can say 'I've tried' yet without truly risking.
They fail to realize the greatest loss (failure) is the deterioration of their relationship. This often comes too late.
Their fear of failure keeps them on the sidelines instead of in the game.
3) He May Need Encouragement (not Control)
Many people confuse control with encouragement. What YOU mean as encouragement may be viewed as an attempt to control him.
One of the laws of communication is: It's not about what is said, it is about what is heard.
True communication is about being understood and understanding. The question you should continually ask is, 'What is my spouse hearing when I say this?'
If you focus on that question, you will format conversations in a way that is productive, not destructive.
One of the laws of communication is: It's not about what is said, it is about what is heard. True communication is about being understood and understanding. The question you should continually ask is, 'What is my spouse hearing when…
Click To Tweet
While it is a grossly overstated stereotype that women operate from emotions and intuition and men from logic and analysis, there are some (emphasis on 'some') psychological differences in how men's and women's brains are wired.
I mention a couple of these differences from a Stanford Medicine article to make a point:
Women, it's known, retain stronger, more vivid memories of emotional events than men do. They recall emotional memories more quickly, and the ones they recall are richer and more intense.
And…
The two hemispheres of a woman's brain talk to each other more than a man's do. 
Finally…
[The] females' brains consistently showed more strongly coordinated activity between hemispheres, while the males' brain activity was more tightly coordinated within local brain regions.
I'm sure there are many applications and insights we can draw from this study. It is obvious that while overstated stereotypes can damage our understanding of relationships, it is vital to realize there is a difference in how men and women process information and solve problems.
This boils down to one big takeaway: It is possible your husband simply doesn't know how to work in and on the relationship. His problem-solving process is different than yours and he is uncomfortable (maybe even unable) to get on the same wavelength as you.
Chances are, you will not be able to 'tell' him how to do it. This usually backfires. That's not to say it's hopeless. It just means you need outside help. Below are some resources that can help you get back on track.
While it is certainly true many men need to grow in the area of understanding their wives; but let's not forget, this sword cuts both ways. Many women fail to understand their husband's perspective or appreciate their problem-solving process. When we stop trying to get our spouse to conform to OUR way and seek to understand each other, we will find progress.
Final Thoughts On Why Your Husband Doesn't Fight For Your Marriage
In Part 2 of this series, we will discuss the emotional reasons your husband may not fight for your relationship. Plus, wrap up with some practical advice on how to get back on track.
In this segment, we addressed (only) the logic side of the equation. Our goal was to present eight reasons he might not be interested and follow up with four things that could interfere with his desire to fight for the relationship even if he wanted to.
These insights will hopefully inspire you to dig deeper. 
If you discover your spouse is not interested in fighting for your marriage, we have resources and programs to help you know what to do next. Start with 'Save the Marriage System.' You'll find the information listed below under What's Next.
Summary
Here is a brief review of the key points we covered:
What's Next?
 To get more help creating the marriage you desire and deserve, check out these resources:
The Healthy Marriage Quiz
If you want specific help for your marriage, or you want to know your healthy marriage score, take the marriage quiz. You'll get immediate access with suggestions on how to improve your relationship.
The Healthy Marriage Toolkit
Books, Courses, Programs and Tools designed to help you create the marriage of your dreams.
Five Simple Steps Marriage Course
Marriage doesn't have to be complicated. In this 5 part mini series you'll discover practical steps to redesign your marriage.
Healthy Marriage Courses
Our courses will help you build a strong marriage. Each course is designed to meet a specific relationship need.
If you are having serious marriage struggles, we recommend starting with 'Save the Marriage System' by Lee Baucom.