If your marriage is in trouble and you want help, just google 'help with my marriage' and you'll find all the answers you need, right? Of course not.
The amount of misinformation available online is mind-blowing. Not only is the majority not helpful, but some of it can also actually work against you. Doing the right thing at the wrong time is just as bad as doing the wrong thing.
If you are trying to save your marriage, doing the right thing at the wrong time is just as bad as doing the wrong thing. You need practical advice for every stage.
Click To Tweet
So, what do you do? Go to a counselor?
Not necessarily. Counseling may be a good choice, or maybe not. It depends on where you are in your marriage crisis. Counseling may trigger more problems before resolving the ones you think are important.
Dr. Lee Baucom (Save the Marriage System) has been helping marriages get back on track for several decades. After years of working with couples (as a counselor and professional marriage expert), he believes there is a better beginning place.
In this video, he talks about why marriage counseling may not be right for you.
The big takeaway is that most 'marriage counseling' is not about the marriage at all. Too many counselors are not trained in specifically dealing with couples. Their approach is well suited for individuals, but not for couples.
This doesn't mean all counselors are bad. Or wrong. Many are simply not qualified to help couples resolve issues and rebuild their relationship.
Where Should You Start in Saving Your Marriage?
Before plunging headlong into marriage therapy, we recommend starting with a program like Save the Marriage System. It's by Dr. Baucom (video above).
Full Disclosure: We believe in this program so much we partnered with Dr. Baucom to help others discover practical things they can do to make their marriage work. As partners, we do get a commission if you purchase the program through our link. However, we recommend this program because we like the approach that Dr. Baucom uses in marriage help.
One of the reasons we like this program is its simplicity. By that, I do not mean a lack of helpful information. By simplicity, I'm referring to the fact that it offers practical help and gets to the point.
It offers what Lee calls his 'Down-N-Dirty Guide to Winning Your Spouse Back.' This if those who are already in the heat of marital conflict and on the verge of losing their marriage. But it is helpful no matter what stage of conflict you are in.
It's valuable because it is actually a 'Q&A' format; couples have asked the tough questions and Dr. Baucom answers with step by step guides on what to do in that situation.
A lot of programs begin with fluf or muddy observations that don't really address issues couples face. More theory than practical advice. This guide answers questions couples are actually asking. That makes it a valuable tool.
He even offers a few exercises you can do to zero in on the real issues.
Fact is, most couples in marriage trouble aren't even aware of the real issues. I've talked with countless individuals who are clueless about the real problems. I don't' say this to insult. Rather because the real issues are often overshadowed by the things that trigger arguments and fights. These are rarely the core problems.
The 'Down-N-Dirty' guide helps filter out the peripheral issues. Those on the outskirts. It helps isolate what's really happening in your relationship.
Here are just a couple of questions he addresses in this guide:
I find myself getting caught up in emotions; what can I do to keep this from happening?
How should I act toward my spouse?
What do I do now?
My spouse doesn't believe I can change; how can I prove I'm willing?
Why should I be the one to change?
What if my spouse won't do anything with me; how do I save my relationship?
These are just a few of the topics covered.
This is just ONE segment of the program. Also included is an invaluable guide if your spouse says they want out. Most people blow it at this point. Their response makes things worse.
Dr. Baucom put together a list (and explanations) in the 'Top 5 Things NOT To Do When Your Partner Wants Out.' This alone could keep you out of divorce court.
Overview of Save the Marriage System
Every program offers steps to save your marriage. This is no different. What sets STMS apart is Dr. Baucom's approach to the stages of marriage conflict. I talk about those later.
Imagine being at a theme park you are unfamiliar with. You've been told by your friends there is a great show in the 'Riverboat Section' of the park. Problem is, you don't know where the Riverboat Section is located.
'
You look around for someone to ask, but can't identify anyone who works at the park.
You notice a giant map of the park near where you are. You walk over to the map and notice it has each section of the park clearly marked. You realize the Riverboat Section is on the Northwest side of the park next to the Ferris Wheel.
Problem is, you can't the see Ferris Wheel from where you are. The buildings are too tall.
You don't even have a compass to tell you which way is North, much less NorthWest. You've never really been good at reading sunrise and sunsets either. Not to mention it's noon and that wouldn't help much anyway.
You look back at the map and notice an arrow pointing to a spot on the map. It reads: YOU ARE HERE!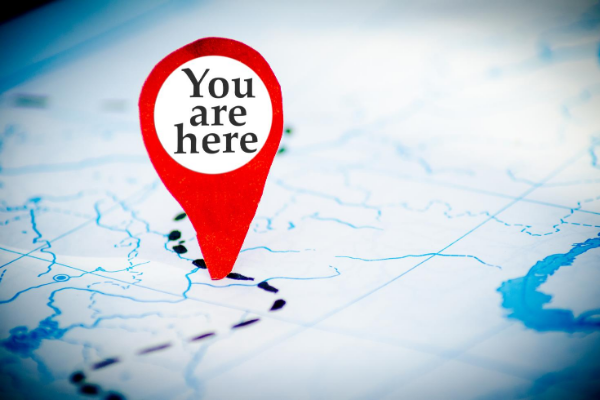 Perfect. Now you know exactly where you are so you can navigate to the NW side of the park. It even gives you 'signpost' along the way just to make sure you know you are heading in the right direction.
You now feel confident you can make your way to your destination and not get lost. Or end up wasting your time moving along the wrong path.
That's what the Save the Marriage System provides. It's like a giant map that helps you identify exactly where you are in your marriage situation, plus gives you markers along the way so you can be confident your heading in the right direction.
Will it guarantee you success? Unfortunately no. Nothing can do that.
But..
I will give you confidence because you have a tested, proven path you are walking that has worked for hundreds of other couples. You'll know you are making the right decisions concerning your marriage. This will give you peace of mind and you'll know you've done everything possible to save your relationship.
Successful marriages are built around core factors. Lee talks about these in chapter three (don't skip this section). He doesn't just tell you these core concepts, he explains why they are necessary. Understanding these core concepts helps you get a clear picture of what a healthy marriage looks like.
While every marriage is different (unique), these core concepts are the building blocks every healthy marriage is built on.
For example, he talks about the outer concepts of perception, clear communication, and right action. These are built on understanding, direction, and connection. This big picture perspective is extremely helpful.
Once these are presented, he goes into detail on how they work in marriage. They become the foundation for the work ahead – navigating the 8 stages of marriage conflict.
This is what I consider the core part of the program. It sets it apart from other courses.
By the way, each section has practical action steps to take to put the concepts into your relationship.
8 Stages of a Marriage Crisis: Why You Need To Know What They Are
This is the heart of the program. Understanding these eight stages gives you an advantage when you are faced with marital conflict.
The image below gives you a visual of the steps. Note: I do not mention the specific steps. With respect to Dr. Baucom, I do not want to mention any specifics because they are part of the program.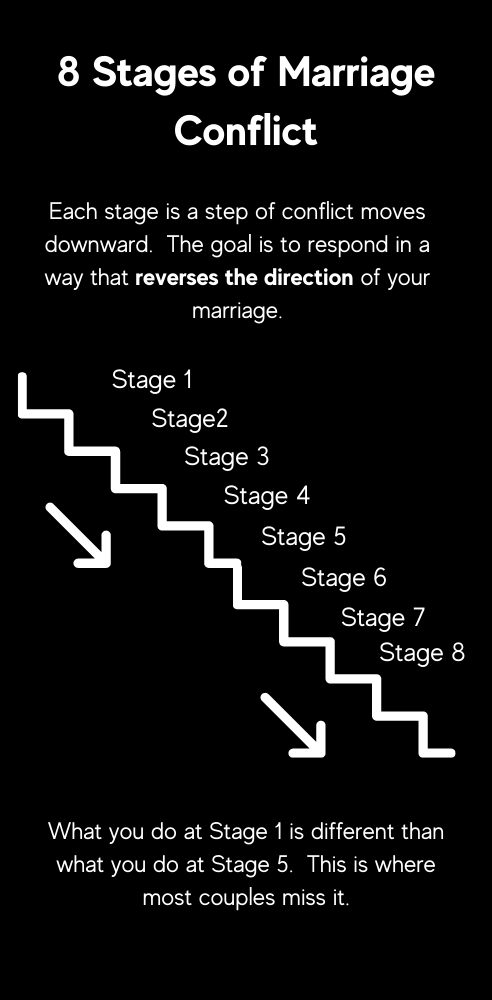 The most important part of this descending stairway is how you respond at each step is different. What you do at Stage (Step) 1 is vastly different than what you do and say at Stage 5. Each stage has unique challenges, so a targeted response is required.
Dr. Baucom lists each stage and explains what is happening at that stage. He includes practical advice on how to respond in that situation.
Knowing what to say and do, as well as, how you should be thinking at each stage is priceless.
These steps have proven accurate in countless couples.
Who is Lee Baucom?
It's time to introduce Dr. Lee Baucom. He is an author and speaker.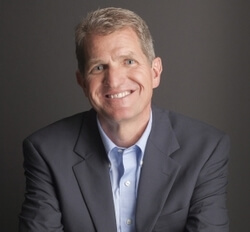 He has written several books on a variety of subjects but is best known for his work with couples in rebuilding their relationship. His work often revolves around helping couples save their marriage when they feel hopeless, or the only one trying to work on the relationship.
He has been working with couples for over three decades.
What is in the Save The Marriage System?
Let's look under the hood and see what you get in this program. It includes several guides. All text-based (except for a few of the bonuses included in the program). The core program is in ebook form.
Here's what you get. There are four modules in the program.
Module One: The Top Five Things NOT To Do When Your Partner Wants Out
Do this first to get you out of harms way and avoid the things that could damage the relationship further.
Module Two: Quick Start Guide To Saving Your Marriage
Gets you moving in the right direction fast.
Module Three: Save The Marriage Core Component
Helps you understand why your marriage is failing and helps you treat the root causes.
Module Four: Down N Dirty Guide To Saving Your Marriage
The step by step guide on rebuilding your marriage.
But this is not all you get. Dr. Baucom has added a few bonus sections that will take your relationship to the next level and help you get even more understanding on the dynamics of building a strong foundation. These are only for a limited time, so to get them you need to act now.
Bonus #1: Coping With A MidLife Marriage Crisis
This is an audio recording you can download and listen to over and over again. Will help you understand the what's really behind a midlife crisis.
Bonus #2: Recovering From An Affair
This audio recording will help you understand why it happened, how to deal with it, but most importantly how to make sure it never happens again.
Bonus #3: 5 Rules For Fair Fighting
This is a report you can download. Knowing how to fight fair is a huge key for marriage success. We don't always agree, but there is a way to argue that won't destroy your marriage. This is a MUST HAVE report.
Bonus #4: Change of Heart eBook by Paul and Jennifer Thibeault
Paul and Jennifer share their story of how they went from brink of divorce to soul mates. This report is worth the cost of the entire program.
These tools and resources will give you a game plan – a system – and the practical steps to get your marriage back on track. You will have the confidence that you can restore your marriage.
You will also get an opportunity to book a coaching call with Dr. Baucom. I suggest going through the material first so you have a solid frame of reference before proceeding with the extra bonus.
Does Save the Marriage System Work?
The big question I get from couples (individuals who feel their marriage slipping away) is, does it work?
As I mentioned earlier, no program can promise your marriage will be restored. Dr. Baucom does offer a 60 Day Money Back Guarantee if you purchase the program. If for any reason you decide the program is not for you, just let them know and they will refund your money. No questions asked.
This course is tested and proven with real couples. It's not based on theory. It's been honed through the years to help couples navigate the rough waters of marital conflict.
While there are no promises your marriage will be saved, you will give your relationship the best opportunity for restoration by applying these principles.
Dr. Baucom walks you through the program and discusses the basics of the program in a special video. Click the link below to watch the video. Then read the information on the site.
Why I Like Save The Marriage System
Why is it our top recommendation? I've worked with enough couples to know they need practical advice along the way. Emotions often (more than not) run high when marital conflict happens. Knowing what to do in each situation is crucial. Missteps along the way can cause setbacks.
Dr. Baucom presents help for couples who feel like they are alone in the process. More often than not, when marriages spin out of control one partner is the one to start reconciliation. It's unfortunate, but it happens too frequently to ignore. This puts a lot of pressure on that individual.
Having a game plan of what to do next can save time, and ensure you aren't doing things that actually hurt your chances of working things out.
The fact that this program covers the 8 stages of marriage crisis, gives practical steps along the way, and presents exercises you can do to move you forward sets it apart from many other programs.
Before you seek counseling (I'm not against it; it just shouldn't be your first option. Not at this point), use the resources in the Save the Marriage System to lay the groundwork for rebuilding your relationship.
The link below will take you to the special video where you can watch and read the material to learn more.