If you've ever complained, 'My husband doesn't want to work on our marriage!' We outline four emotional reasons why he doesn't fight for the relationship, and why he disconnects. Discover these four reasons he detaches.
These reasons are not emotional in the sense of 'highly sensitive responses' or emotional hysteria; rather we use the term emotional to reflect the deep-rooted 'feelings' and beliefs about the relationship.
In Part 1 we discussed eight reasons men often fail to fight for their relationship. We presented these as 'analytical reasons' in order to contrast them with the emotional reasons listed below.
No one wants to live in an unhappy marriage. Understanding our spouse is one of the first steps to creating happiness and satisfaction in the home.
Here is a diagram that might help make a distinction between the two concepts (reasons):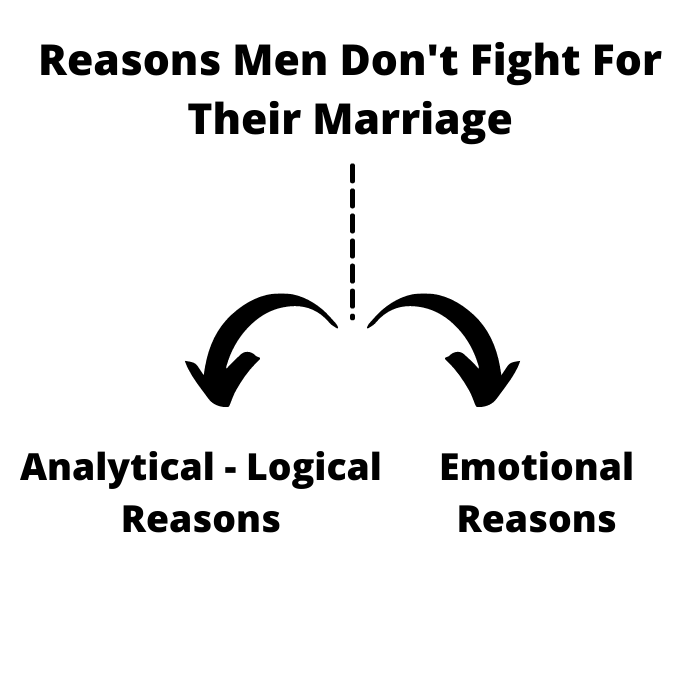 This post contains some affiliate links to products that I use and love. If you click through and make a purchase, I'll earn a commission, at no additional cost to you. Read my full disclosure here.
Remember from part one, we talked about the analytical or logical reasons men fail to fight for their marriage (breaking things down to a logical conclusion to get to the bottom of what is happening). There are two aspects to this:
He is not interested in making the marriage better
He is interested but something is holding him back
We also listed eight reasons he might not be interested in working on the relationship. Here is a recap:
Is there someone else? An emotional affair? Inappropriate behavior with other women?
Is pornography killing his desire? Is physical intimacy non-existent?
Is there a wound in the relationship?
Does he simply want his freedom?
Does he see a benefit in working on the marriage?
Is he angry and resentful?
Is marriage too much work (in his mind)?
Is he a narcissist?
These are major issues that need to be addressed.
As difficult as it is, when you evaluate your relationship to discover the real reason he is not engaged, you are then in a position to make wise choices. Marriage is a partnership; you can't partner together if you do not know what is happening with your spouse.
In the previous article, I also laid out four reasons he is failing even though he wants to make it work.
He is embarrassed so he doesn't try
He is afraid of failure
He just needs the right encouragement
He is uncomfortable navigating his emotions
Any of these reasons (signs) could be holding him back. But they are not the only reasons. There are emotional reasons he might be disconnected. Failure to deal with these issues only produces a mediocre marriage at best.
In this article, we explore the four main reasons for this emotional disconnect. We answer the question, "My husband doesn't want to work on our marriage!" We will conclude with some practical guidance on how to get back on track.
4 Reasons Why Your Husband Doesn't Fight For Your Marriage
The reasons listed above are 'logical conclusions' we come to as we think through the issues. At least that's the goal – present analysis of the relationship and come to some conclusion.
The following four reasons are not related more to the internal nature of what is happening in your spouse. I put them in the category of 'emotions' because they are rooted in the internal belief system he holds about the relationship.
They are based on truths we understand about human psychology. While there are many other reasons we could explore, these four ideas capture the essence of this series.
We also assume your spouse wants to make your marriage work. In the previous article that was undetermined. Here we address issues as if you both want to make it work, but things are hindering the process.
Remember, from the image below we are working on the 'emotional side' of the equation.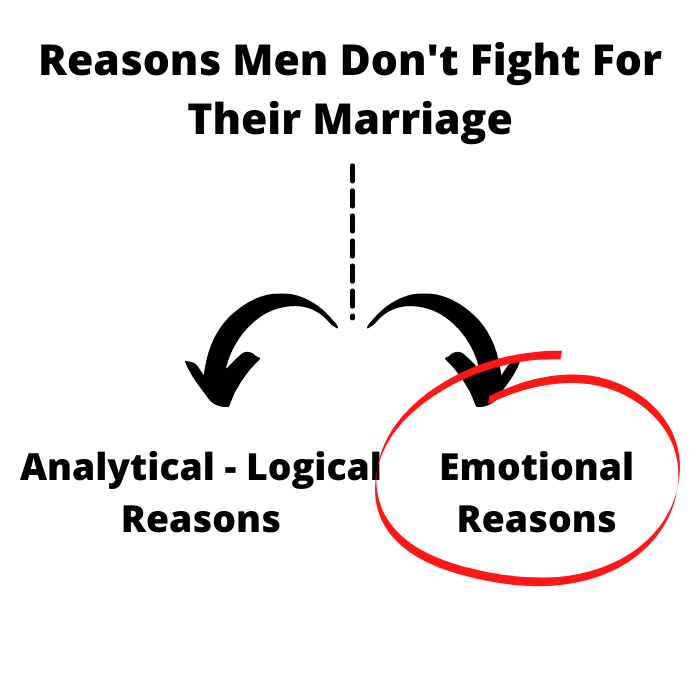 1) He Wants It To Be His Choice
No one likes pressure. From childhood we crave to 'do it ourselves.' It is the drive for independence and freedom. Not independence FROM marriage, but freedom IN the relationship.
My wife often calls this 'interdependence.' We depend on each other, but neither of us takes the place of God in life. Independence carries the connotation of freedom FROM something. Interdependence is a common dependence we have with one another that is based on trust.
I hope you understand the difference.
If your husband feels pressure he will revolt to exert independence. The solution is simple (though not often easy); you must establish interdependence. Simply put, if he shows resistance to working on the relationship, you need to help him be his idea.
2) He Doesn't Want To Be Controlled
This is similar to the above. But in my opinion, it is the result of a long-term sense of being controlled. Bottom line: He is rebelling against feeling controlled.
At this point, it doesn't matter if his feelings are legitimate or not. They are true to him. If you want to make progress in the marriage and get him to re-engage, this issue has to be dealt with.
I talk about the motives behind our actions in this video.
Control, criticism, and contempt fuel the fire of his detachment.
3) He Doesn't See A Payoff
When I say this, many women read 'sex.' In my years of working with men, this is seldom the payoff men seek. Sure, physical intimacy matters to a man. But the payoff most men seek is respect.
I talked in depth about this concept in the first article. LINK
Everything we consistently do has a payoff. If not, we would stop doing it.
People argue because there is a payoff. Maybe they feel victorious by winning an argument. So they create arguments they can win. Maybe it keeps them from dealing with their own internal issues. Whatever the reason, there is a payoff. People get something out it or they would stop doing it.
Once you understand this principle you can dig to find out the payoff.
People argue because there is a payoff. Maybe they feel victorious by winning an argument. So they create arguments they can win. Maybe it keeps them from dealing with their own internal issues. Whatever the reason, there is a…
Click To Tweet
For example, if your spouse is disengaged, there is a reason. He gets something out of it. Find out what that is and you can change the situation.
You will never change them through force – arguments, manipulation, and control. But you can change your marriage by finding out what benefit they get out of disengaging from the relationship.
Change that and you change your marriage.
The upside is, when he sees the benefit in working on the marriage, he will re-engage. He just needs to know the payoff.
4) He Thinks You've Changed
We all know things change over time. It should. It's nature. The goal is to ensure those changes are positive instead of negative.
Change needs to work in our favor, not against us.
Time doesn't have to diminish love. It should actually enhance and increase it.
How do you make change your friend? You make sure you don't lose the essence of what made your relationship so appealing in the first place.
Author Laura Doyle suggests women do what you did when you fell in love!
We all realize life gets in the way at times. The problem is we allow little things to distract us from what we really want in our marriage.
I hear women say:
"I want my marriage to be playful like it once was."
"I want my husband to pay attention to me like he used to!"
"I want my marriage to be happy like it used to be!"
So, what's holding you back? Do it. Recreate that life. It's not as hard as you think. At least according to Laura.
When you changed, your husband started responding to you differently. He took his cues from you and got more businesslike too, so there was less playing and fewer butt pats. And that's not all. It also seemed like he just wasn't being cooperative when you told him how to be more efficient and logical.

Laura Doyle
Your husband could be responding to the 'you' you are presenting him. Her solution? Revive the goddess of love and fun.
Every man wants to have fun. In fact, every person wants to have fun. So why not be the fun your spouse desires? Why not be the lover instead of the mother?
Does this imply sex? Maybe. Maybe not.
What's wrong if it does. The point is we usually find what we are looking for.
Principle: Life is a mirror. You generally see yourself – what you are – when you look into it. If you want to see a smile, offer a smile. If you want happiness, choose happiness.
To get your marriage back on track has to begin with you. (Since you are the one who is interested at this point, not him.) This is not to put all the burden of the marriage on you. But since he is disengaged, the goal is to get him re-engaged.
This certainly doesn't imply guilt on your part. And it doesn't indicate you've necessarily done something wrong. As mentioned earlier (and in the previous article), something changed his mind about your relationship. At this point, it doesn't matter whose fault it is. The goal is to shift the balance in your favor.
To do this, his perspective of your relationship has to shift. Until that happens, he will more than likely remain in this detached condition.
How Do You Fight For Your Marriage When You Feel You Are The Only One Who Cares?
It's never easy when you feel like you are in it alone. These tips will help you gain perspective and give you practical steps you can take to regain what has been lost.
1) Don't Fight With, Fight For
This is a vital distinction. It's easy to wage the battle with your spouse when the real enemy is the disconnection you feel. How will fighting with him help you reconnect?
Sure, there are times you need to argue. This is healthy. But when you are fighting for your marriage alone, resist the temptation to make your spouse the enemy.
It may be a subtle distinction, but it is one you need to heed.
2) Get A Clear Picture On What To Do Next
In my opinion, Dr. Lee Baucom has done an excellent job outlining the various stages of a marriage crisis. He points out (and we mention this often) what you do at one stage doesn't necessarily work at another stage.
This is where many couples go wrong. They try the same thing over and over even though it doesn't work. As the relationship moves further apart, they continue to treat the problem the way they did before. This is a mistake and can be costly.
Understanding what level of crisis your marriage is in is important.
Dr. Baucom has a free video where he explains these stages and gives insight into what to do in each stage.
Disclaimer: This is a promotional video for his course. It is a good course, but I want you to know what you will see when you click the link. I recommend Dr. Baucom if you are having serious marital problems and you feel like you are the only one trying to make it work.
Save The Marriage System by Dr. Lee Baucom
If you are trying to save your marriage, doing the right thing at the wrong time is just as bad as doing the wrong thing. You need practical advice for every stage. Learn:
The 8 Stages of a Marriage Crisis
What To Do At Each Stage
How To Diagnose What Stage You Are In
A Quick Start Guide To Get Your Relationship Back On Track
3) Be Committed to the Process
I certainly can't guarantee your marriage success. There are too many factors that influence the outcome of your efforts. But I have noticed that individuals who are deeply committed to making their marriage work have more success than those who merely 'hope things will work out.'
The battle is not pleasant. Your commitment will help you maintain focus and purpose as you work to find solutions.
4) Make Your Boundaries Clear
Working on your marriage should never put you in the situation to be verbally or physically abused or neglected. Marriage is a two-way street. Having clear boundaries is healthy and will frame how your marriage progresses.
One book we highly recommend is Boundaries by Henry Cloud and John Townsend. If you haven't read it, get it today. It is vital to create healthy boundaries. This book will show you how.
Boundaries Updated and Expanded Edition
This book continues to help millions of people around the world answer these tough questions:
Can I set limits and still be a loving person?
What are legitimate boundaries?
How do I effectively manage my digital life so that it doesn't control me?
What if someone is upset or hurt by my boundaries?
How do I answer someone who wants my time, love, energy, or money?
Why do I feel guilty or afraid when I consider setting boundaries?
How do boundaries relate to mutual submission within marriage?
Aren't boundaries selfish?
5) Involve Him
Believe it or not, most men want to be needed by their spouse. Speaking as a man, it makes me feel manly when my wife wants to pick my brain about something. It signals she respects me and admires my mind.
When she notices the daily push-ups are paying off, it makes me feel manly.
Men want to feel like men. If you answer that need, you win his heart.
Click To Tweet
Men want to feel like men. If you answer that need, you win his heart.
6) Invest in Yourself and Things Outside of Your Marriage
This may sound counter-intuitive or counter-productive. But hear me out.
One thing that happens to many individuals as they work to make their marriage better is they get caught in a trap where all they think about is what's wrong with their relationship. It is a vicious cycle.
The more you think about what is wrong, the more you focus on the negative.
Sometimes you need to step away and work on yourself. Find a hobby you enjoy. Do something with friends (make sure you don't create a circle that excludes your spouse; this can subject you to temptation and jeopardize your marriage).
The more you think about what is wrong, the more you focus on the negative. 
Click To Tweet
The bottom line is to find something that distracts you from the constant focus on trying to change your marriage. Give yourself a break.
Final Thoughts on Why Husbands Don't Fight For Their Marriage
We covered a lot of ground in this article series. If you want to read part one, go here.
Why husbands don't fight for their marriage? We discussed four main reasons your husband doesn't work on the relationship the way you desire.
We also listed six things you can do if you are in it alone.
Summary
Recap of what we covered:
What's Next?
To get more help creating the marriage you desire and deserve, check out these resources:
The Healthy Marriage Quiz
If you want specific help for your marriage, or you want to know your healthy marriage score, take the marriage quiz. You'll get immediate access with suggestions on how to improve your relationship.
The Healthy Marriage Toolkit
Books, Courses, Programs and Tools designed to help you create the marriage of your dreams.
Five Simple Steps Marriage Course
Marriage doesn't have to be complicated. In this 5 part mini series you'll discover practical steps to redesign your marriage.
Healthy Marriage Courses
Our courses will help you build a strong marriage. Each course is designed to meet a specific relationship need.
If you are having serious marriage struggles, we recommend starting with 'Save the Marriage System' by Lee Baucom.