Sometimes the unthinkable happens. A marriage seems like it is working then one partner breaks the marital bond and is unfaithful.
When this happens, the spouse is left wondering what happened. A thousand questions berate the mind.
Disbelief turns to anger. Anger turns to pain. Pain settles in like a long winter.
Heartbreak can't begin to describe the emotional state of someone who has been betrayed.
So, how do you deal with it. What can you do to get life back on track?
Especially IF you want your relationship restored…what are practical steps you can take to make your marriage work again.
In this article we will discuss how to deal with infidelity.
Note: This is Part 2 of 'Making Your Marriage Work Again.'
I hear stories of broken trust and failed relationships on a regular basis.
One husband posted this on a 'marriage board.' You can feel the hurt and anger in his words. He is crying out for help.
Here's his words:
I found screenshots of texts between my wife and her co-worker on Sunday, Oct 20th. I met with a lawyer on Monday over lunch and discussed my options and laws in my state. She mentioned I could wait and gather more dirt via a PI, but I had everything I need.

I confronted her on that Monday evening. She didn't deny it and I asked her to tell me everything. According to her, she's always been attracted to him since they started on the same day, Jan 2018.

The first week of October (1 month ago) she went to Vegas for a conference she planned. On the Saturday evening after everything was over, they all went to a nightclub and she said they kissed for the first time. She said she felt terrible afterwards and came home the next day (as planned).

She said she realized it was wrong, but they started texting again and meeting at work to kiss, later in the week. It continued the next week, meeting in a vacant conference room at work to kiss, either during work or from 5-5:15 (time when she said a meeting ran late etc). I found out on a Sunday and didn't confront her until Monday night. Well, I asked her if anything happened today (the day I confronted her), and she said they went to lunch and kissed in the car.

I'll spare you the details, but the whole evening was one of the worst of my life. Her father was still in town and upstairs. After she told me she went to lunch with him that day, I lost it…My wife and I started arguing again and it lasted well into the night.

We've spoke and hashed out details almost every night since then, hence why I'm exhausted. She had a work trip the next weekend to TX. She asked if she should cancel, and I asked if he would be there, and she didn't think so. I said go ahead, it's for work and I don't want to interrupt your job. I asked her on that Thursday night to not talk to or see him, unless it's strictly for work. I also asked her to promise me that regardless of what happens with us, that she not have any further emotional or physical affair until we're separated. Anything else might destroy me completely.

While in Texas, she texted me often and I finally asked if he was there…yes. When she got back on Sunday, I asked if anything happened. Her response, no. The week as tough again but we talked and she said she was in a terrible spot in our marriage and isn't sure she wants to try to fix it. She's not sure she can get back to being happy with me and us. Keep in mind, we've struggled for a long time. We almost got separated in July, but said we'd try again and put forth effort.

Well, on Saturday (just 5 days ago), I snooped through her iPad and found more texts. Basically, he claims he's in love with her, or falling. He wants to be with her, near here, etc. Turns out they met in Dallas for coffee and talked. After begging her to tell me what else happened, she swears nothing else happened. She claims she's trying to push him away and he's really into her. We even went out to dinner to talk (I got a babysitter) and tried to relax.

In summary, I have no idea what to do or where to go. I love my wife, I care about her, I care about our family and know what affect it will have on our children. I was willing to change things about me, change our relationship, etc.

I'm willing to put in the work, she's not sure if we can ever get there again.

I booked a couple's therapy appointment for this coming Tuesday. We're hoping to become friends, work on communication, and have decided to stay together through the holidays.

As of right now, I don't think my wife realizes the pain and hurt she's caused me and this family. I think if we were to get separated, she might have that moment when she comes into an empty house or apt with no husband and no kids and might change her mind.

I know I'm hanging on to something that might be a lost cause. BUT, I'm willing to do whatever it takes to try to save this. If she's not on board, or if I can't get past this, then it won't work.
Unfortunately, this situation is not unique. Visit any marriage forum or board and you'll find people who are wounded by the rejection of infidelity.
How can you recover (or help your spouse recover) if your marriage has experienced broken trust?
Here are 11 Practical Steps for Making Your Marriage Work Again
These steps are specifically for those who have experienced infidelity, but the principles work regardless of the reason for a failing relationship.
1. Make Sure the Affair is Truly Over.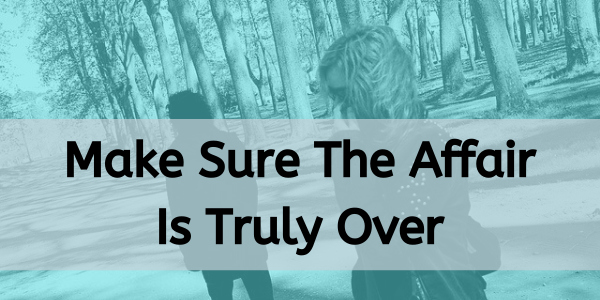 Bob cheated on Alice while on a business trip. He worked with one of his female co-workers on a project that was extremely time consuming and challenging.
After several months working together, they slept together while out of town on business.
When confronted, Bob confessed his failure and asked Alice to forgive him and work together to restore their marriage.
One of the things that Alice required was for Bob to change jobs. Either be relocated or quit his job all-together.
For Alice to fully forgive she had to know that their marriage was more important to Bob than his job. I'm sure there was an underlying concern that if he continued to work in the situation, he would cheat again.
Some would say this is unreasonable of Alice.
I don't think so.
UC Berkeley did a study that suggests it is healthy to ensure your partner is serious about working on the marriage.
You should also ask if your partner seems genuinely motivated to change, or just motivated not to feel guilty. Your hurt and angry feelings may make it difficult for you to read him or her correctly. In addition, the fact that your trust was violated may make you less able to take your partner's words at face value.

However, there is nothing more precious to us than our ability to trust our perceptions. You have the right to regain a sense of control, even if it infringes on the usual rules of relationships. After betrayal, it is legitimate to be able to look at phone records, emails, and cell phone logs in order to feel reassured that there is congruence between what your partner says and does.
In Alice's case, she needed the assurance and confirmation that the affair was over and Bob was absolutely committed to restoring their relationship.
Had Bob not been willing to request a transfer or change jobs, it would signal a 'less than willing' attitude to do whatever it takes to make the marriage work.
2. Assess Your Ability To Forgive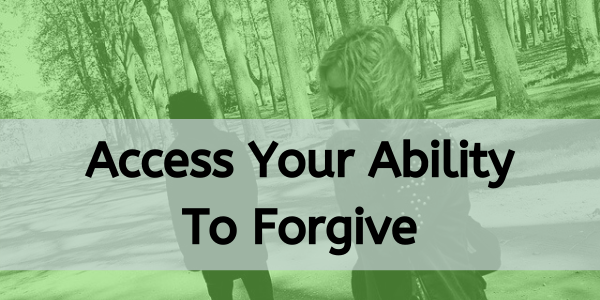 One of the first steps to take is to evaluate if you can forgive and move forward.
Want to know the secret of connecting with your spouse on a deep, intimate level? There is a little known formula for bonding and creating a close relationship with your spouse. And it's not complicated or confusing. >> Click here to learn how <<
The same Berkeley study stated:
It is possible that the wound is too deep and that the betrayer too flawed to ever again be worthy of trust. In order to determine whether you should work to restore trust in your partner, ask yourself: Is this a new behavior, or part of an ongoing pattern of untrustworthiness? If it's not part of an ongoing pattern, there may be good reason to take the risk of working with your partner to heal the betrayal.
Too often couples will spend years in counseling only to discover that the wound is too deep to heal.
The offended party holds their spouse hostage emotionally.
While it is normal to express fear and insecurity, it is not healthy to continually hold the other person hostage. This usually happens when the spouse has a hard time forgiving.
Disclaimer
Anytime you talk about forgiving a spouse who has broken trust, or you ask someone to examine their life to see if they contributed to the problem, you run the risk of crossing the line and blaming the victim. This is certainly not the intention with any advice or recommendation in this article. The fact remains, for a broken marriage to heal, both parties must come to turns with the role they play in that relationship. Self evaluation is never a bad thing.
Jason and Cheri had been married for several years when Cheri found out Jason had cheated when they were engaged.
He had been 'out with the boys' and had a one night stand with a girl he had never met.
When Cheri found out, she was devastated.
She wondered if she could get past it.
Jason assured her he loved her and only her.
He went to counseling together (and separately). He read books on being a better husband. They even read a couples devotional each morning to renew their religious faith and try to get closer.
Several years past, but Cheri continued to give him the cold shoulder.
She refused sex more often than not. She never initiated intimacy. And she would bring up his indiscretion when they argued.
During one counseling session Jason finally said:
Take the Marriage Quiz and discover your marriage score and get suggestions on how to improve your relationship. You will also be sent the results of your quiz along with suggestions on how to create the marriage of your dreams. >> Take The Quiz Now <<
Cheri, I love you more than anything in the world. I want our marriage to work. But I can't live like this any more. I've done everything I know to do to let you know how sorry I am and how much you mean to me.

If there is anything else I can do, let me know and I will do it.

But I simply can't continue in a relationship where you constantly remind me of my past.

Either forgive me once and for all, or divorce me. But do not hold me hostage like this any more.

If you can't forgive me, it's time to move on.
This was a jolt for Cheri. But she chose to forgive.
They continued their counseling, but it was that moment of truth that turned it around.
Without forgiveness there cannot be restoration.
Without forgiveness there cannot be restoration.
Click To Tweet
If the offense is too big, do everyone involved a favor and move forward.
I certainly don't advocate divorce. But if you cannot get past the affair, make a decision to move on.
This leads me to another key; perhaps the flip side of the coin…
3. Realize that it takes time to heal.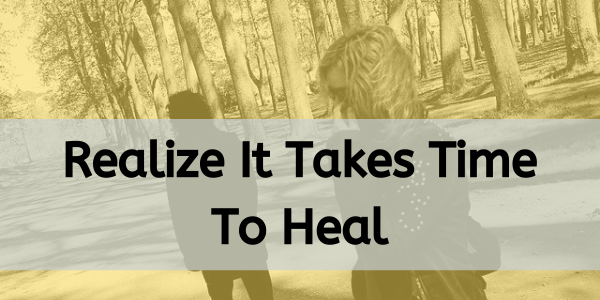 This applies to both parties.
It certainly takes time for a spouse to forgive and heal when their trust has been violated.
It also takes time to forgive yourself if you have had an affair.
Many couples look at the road ahead and feel fatigue. Don't. Time can be on your side IF you truly want your marriage to work and are willing to get the help you need.
4. Take Responsibility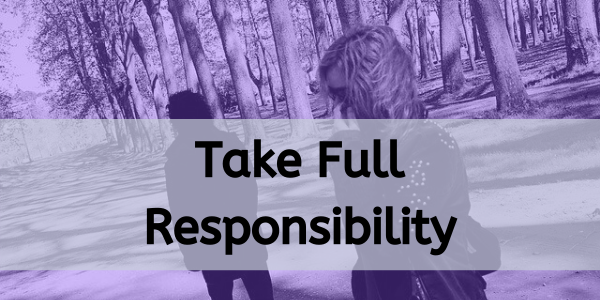 Joshua Coleman (Surviving Betrayal) writes about a couple he counseled – Robert and Janice.
Robert had an affair with a co-worker that devastated Janice. During counseling it became clear that there were deeper issues in their relationship that triggered Robert to have an affair.
What's Your Greatest Relationship Struggle? Take 90 seconds ad tell us the biggest marriage issue that keeps you from having the marriage of your dreams and get personalized help. >> Tell Us Your Struggle <<
Coleman writes:
As a couples' therapist, I have observed that the most important predictor of rebuilding trust after an affair, other than love, is the capacity for both members of the couple to take some responsibility for what happened. This can be a bitter pill to swallow if you are the person who was betrayed. Yet it is a step that must be taken if the relationship is to be saved.

This was illustrated by Janice and Robert's behavior after she discovered his affair. It became clear that it wouldn't be enough for Robert to end the affair with his co-worker, rededicate himself to Janice, and repair how hurt and humiliated she felt. It was also necessary for Janice to admit that she had shut down sexually since she had become a mother and had ignored Robert's complaints about their sex life. Janice had to acknowledge that Robert, in his own way, felt hurt and betrayed by her turning away from him and neglecting what had been an important form of connection with her.
This in no way justifies or condones Roberts behavior. It simply indicates (as mentioned above) that there was an extenuating circumstance that triggered Roberts behavior.
Janice certainly had the right to end the marriage. But as Robert discussed his disappointments in their marriage, Janice realized she needed to change as well.
This led them to a deeper bond where they could restore their relationship.
When we take responsibility for our actions, we cross a bridge of reconciliation and hope.
5. Work on Your Friendship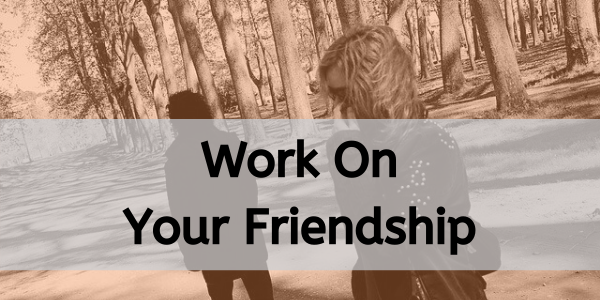 Couples who retain a strong friendship throughout their romantic relationship are the ones who have the most lasting partnerships. (Source)
It should not be a cliche to say your spouse is your best friend. It should be a fact.
They are the person we should be the closest, most intimate and open with. This builds a bond that connects us with our spouse on a deeper level than any other friendship.
Take the Marriage Quiz and discover your marriage score and get suggestions on how to improve your relationship. You will also be sent the results of your quiz along with suggestions on how to create the marriage of your dreams. >> Take The Quiz Now <<
The very fact that you live in the same house, share meals and do life together should result in a close, intimate bond. Sometimes it doesn't work out that way.
It doesn't happen through osmosis. It has to be intentional.
6. Set Some Ground Rules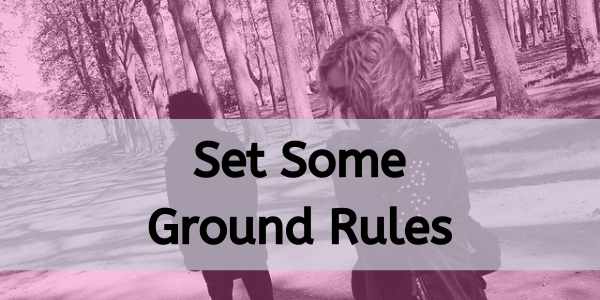 It's important to set ground rules about when and how you will discuss what happened.
When To Talk About It
There is no perfect time. But it is better if you can agree that talking about the issue is reserved for specific times.
This will keep you from constantly bringing it up. This rarely produces healing in the marriage. More often than not it triggers resentment and the feeling that the problem will never go away.
How To Talk About It
Try to separate complaints from criticism.
Martin Seligman puts it this way:
Try to think of their partners' flaws in non-absolute terms. For example, try to see the affair as a terrible mistake, one which you may or may not have had some complicity creating. If, on the other hand, you see the betrayal as evidence of a permanent character defect, such as an anti-social personality disorder, you will be less likely to move toward forgiveness. You may be right that your partner is certifiably suffering from a personality disorder, but if that's the case, you may be better off leaving the relationship instead of remaining critical of your partner, and so torturing both of you.
Bottom line: Shame and humiliation rarely work to restore the marriage.
7. Realize the Game has Changed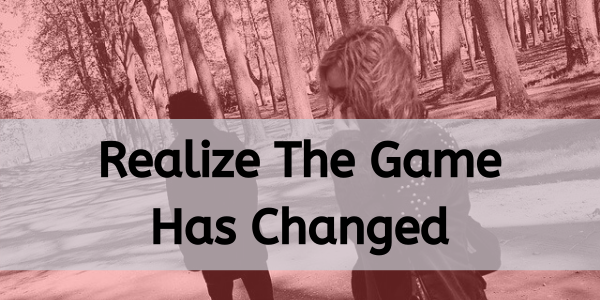 Want to know the secret of connecting with your spouse on a deep, intimate level? There is a little known formula for bonding and creating a close relationship with your spouse. And it's not complicated or confusing. >> Click here to learn how <<
You must respect that an affair changes things. Sure, they can heal. But trust has to be rebuilt. That doesn't happen overnight. It takes time.
You must be patient if you have broken trust.
It's only fair that your spouse will need greater transparency from you. This is the only way emotional security will be established.
You cannot live as though it's okay to have secrets. To rebuild trust, you cannot be defensive when your spouse wants to see your phone, emails or social media accounts.
The rules are different now. That's price you pay to rebuild trust.
Accept it.
Side Note: If you have broken trust, one of the best things you can do is willingly and gladly embrace your spouses need for transparency. This will indicate your desire to heal the broken trust.
If you have broken trust, one of the best things you can do is willingly and gladly embrace your spouses need for transparency. This will indicate your desire to heal the broken trust.
Click To Tweet
However, if you complain about their 'paranoia,' it's a sure sign you still have things to hide.
Don't make that mistake. Especially if you want your marriage to work.
8. Break Ties With Social Media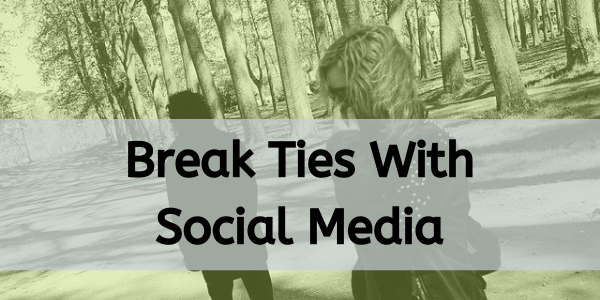 Florida State University studied the causes of marital affairs and found that the likelihood of infidelity increases under certain conditions; one of which is 'internet infidelity.'
Finally, as with all things sexual, the Internet provides a new context within which infidelity occurs. In general, people who seek sex on the Internet are more likely to have affairs, and a majority of those who look for sex online end up having real-world sex with the partner they met online, often in secret. Moreover 'Internet infidelity,' although difficult to define and research, is increasingly becoming a source of relationship stress and strife deserving of further study—as well as its own future column.
My recommendation is to close all social media accounts. Remove the temptation and completely disengage.
This does three things:
First, it sends a clear signal to everyone involved that you mean business.
Second, it removes the temptation to re-engage the person you were unfaithful with.
Third, it lets your spouse know you are fully committed to making your marriage work.
I can't stress this enough. Break ties with social media. And do it sooner, not later.
9. Create a Shared Religious Experience Together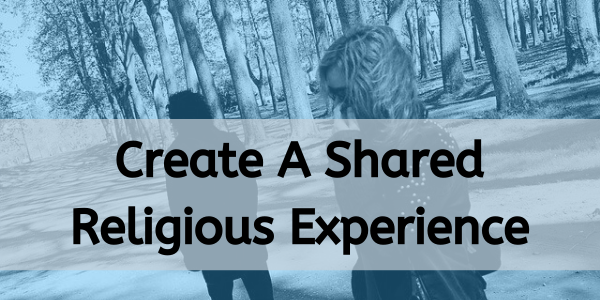 Whisman states:
"Finally, there are several contextual variables that have been linked with extramarital sex, including lack of religious attendance, work-related opportunities, and a social group in which extramarital sex is relatively more prevalent and accepted."
The theme of religion comes up a lot in research on marriage fidelity. While 'going to church or synagogue together' doesn't ensure against an affair, it plays a role in marriage satisfaction, which does have a significant role.
While 'going to church or synagogue together' doesn't ensure against an affair, it plays a role in marriage satisfaction, which does have a significant role
Click To Tweet
10. Be Accountable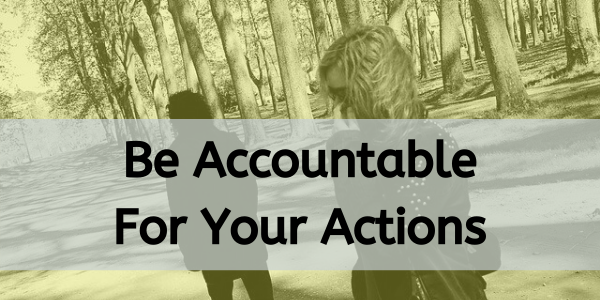 Accountability has as much to do with attitude as any thing else.
What's the best way to stay accountable?
Ask your spouse what THEY need for the marriage to work. This is the starting point.
If you have been unfaithful (physically or emotionally) it's on you to make sure you are meeting your spouses needs and doing what is necessary in her mind to make the marriage work.
Your marriage is important. So make sure you are meeting your spouse's needs.
11. Get Help…Even If You Think You Don't Need It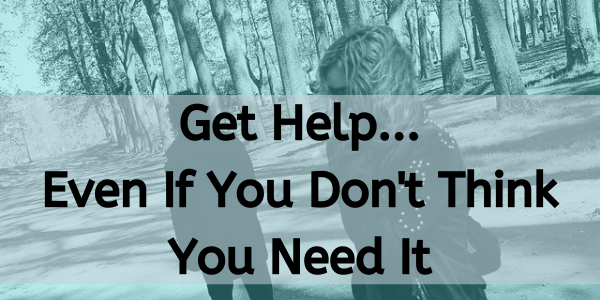 As I mentioned above, counseling may not be the best alternative for you. Especially if you can't find someone who specializes in couples reconciliation.
But that doesn't mean you have to wing it.
The most important thing is to know where you are on the crisis spectrum. As Dr. Lee Baucom states, 'what works at one stage of crisis doesn't work at another.' So you need to know where you are so you can put the right plan into place.
Start here to find out what you need to do to restore your marriage.
Wrapping It Up
There is good news in all the bad. If your marriage has been rocked by an affair, there is hope.
It doesn't mean it has to be over. That decision is mostly on the shoulders of the spouse who experienced broken trust. But trust can be rebuilt.
In this article we looked at how to make your marriage work again.
Here's a quick summary of the practical steps you can take:Make sure the affair is over
Make sure the affair is over
Assess your ability to forgive
Realize it takes time to heal
Take responsibility
Work on your friendship
Set some ground rules
Realize the game has changed
Break ties with social media
Create a shared religious experience together
Be accountable
Get help
It's your turn.
Has your marriage suffered from infidelity?
Were you able to restore your marriage? If so, how?
Of the 11 steps outlined above, which one was/is most difficult?
Leave a comment below.
If this article has been helpful, click the social buttons below and share with your circle of influence.