Everyone needs a way to connect. The way I connect with my spouse is fishing. It's not the only way, but we create a shared experience that helps our marriage.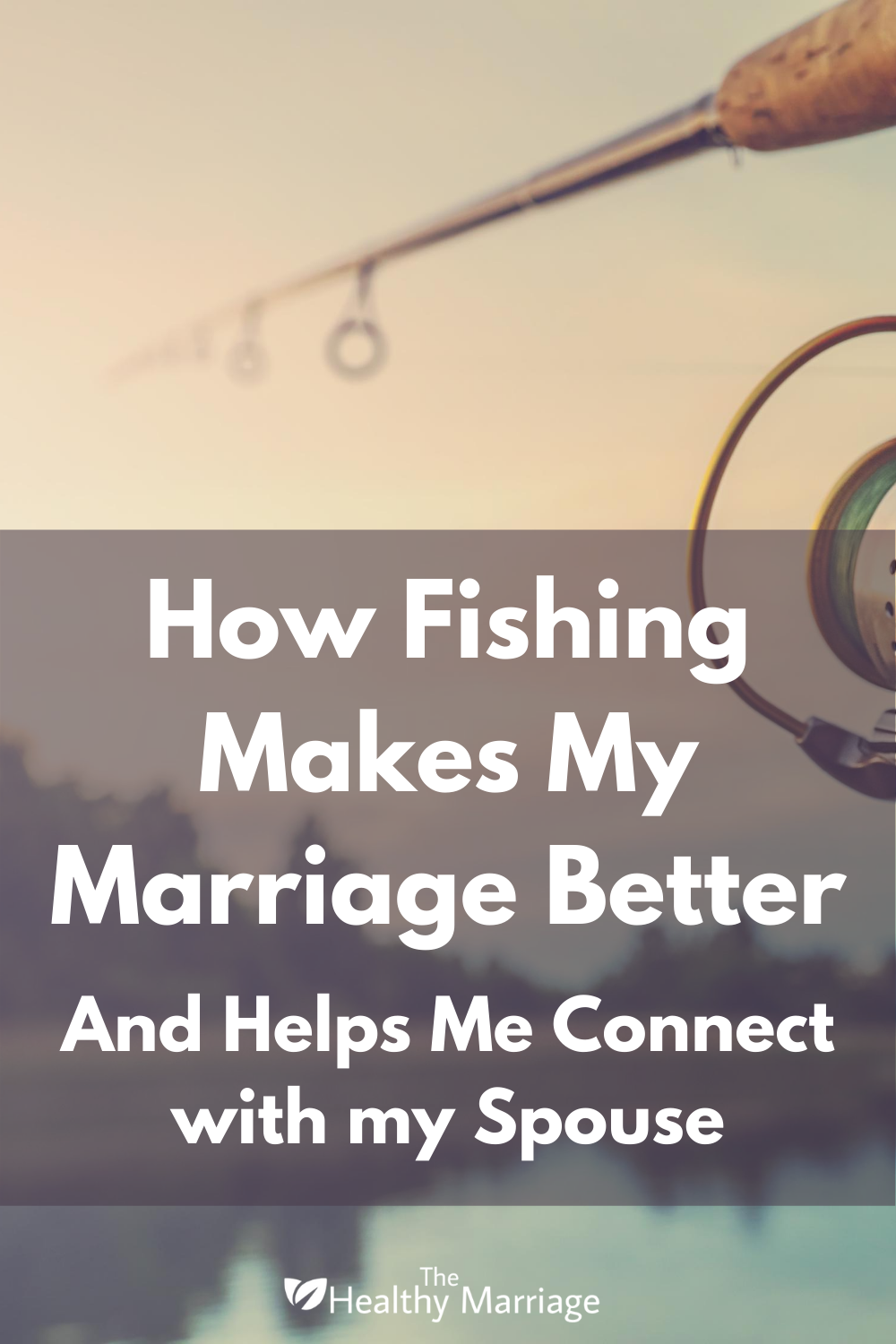 Fishing Helps Me Connect With My Spouse
I love it when my wife walks into my office and says, "Want to go fishing this afternoon?"
Sometimes I think she likes to fish more than I do. She is certainly a better fisherman to me.
It all began for us when we moved to a lake community on Center Hill Lake in Middle Tennessee. We made the transition to from Colorado to be near family]
We decided that if we were going to live near the lake, we needed a boat. We made the investment and purchased a Pontoon boat.
We wanted a Pontoon boat so our kids and grandkids could come and spend lazy days with us on the lake. We also have two kayaks. The grandkids love it. We especially like the kayaks.
This post contains some affiliate links to products that I use and love. If you click through and make a purchase, I'll earn a commission, at no additional cost to you. Read my full disclosure here.
Since we are so close to the lake it has become our habit to drive ten minutes to the boat in the afternoons. Sometimes we take the boat out. Other times we launch the kayaks and fish for a couple of hours.
In some ways, it's actually made our marriage better. Just know, it doesn't have to fishing for you. It can be anything that you share together that makes you feel closer.
Here's how fishing helps me connect with my wife:
I'm a big believer in shared experiences. Psychology shows that people who go through certain events – even traumatic events – create a special bond. This is why sports teams usually have strong bonds.
My son played baseball from the time he was 3 until he finished High School. He is still friends with his former teammates. A bond was created between them because they shared winning seasons. Heartbreaks. And incredible events together.
They traveled. .Stayed in hotels together. Shaved their heads together. They were bonded.
On a bigger scale, people that go through tragic events bond on a deep level.
We also see it in clubs. If you ride a Harley Davidson, you're part of a club. You share something with other Harley riders. For you, no other motorcycle equals a Harley Davidson.
I'm sure you get my point.
For Michelle and I, fishing has become a bonding experience.
Here's a picture of my wife holding a catfish she caught on one of our trips. As I said, she's a better fisherman than I am.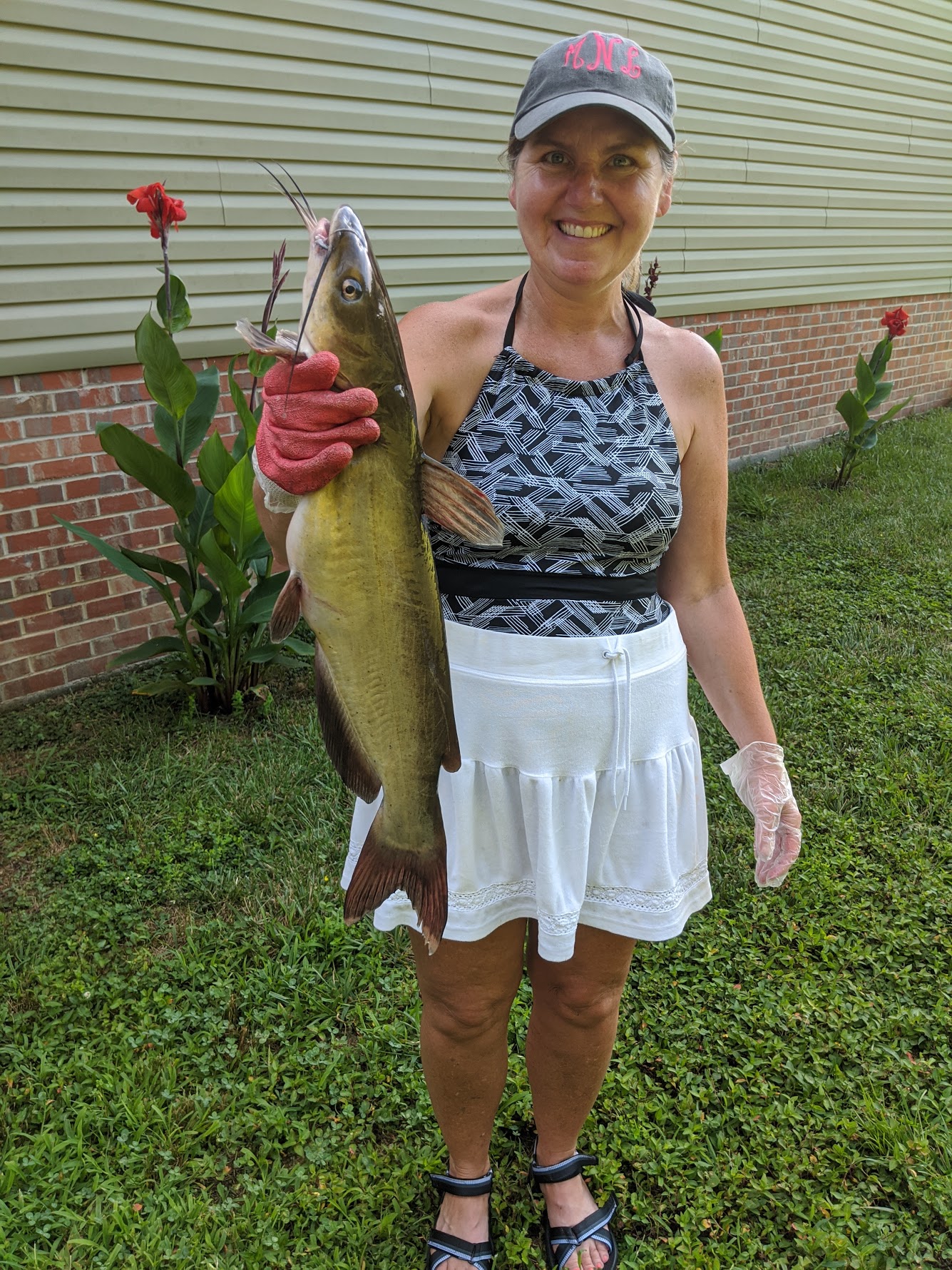 Here's a video of another catfish she caught:
My point is this shared experience helps us feel closer.
It's certainly not the only thing that makes us close. But it is one of the things. We have a lot of things we share in common; we are both writers and word nerds. We pretty much like the same type of movies.
There are a lot of things we shared together. Our faith and love of family.
Fishing is only a part of that. But it is a part. It's something we do together that makes us feel close. We laugh. Talk about fishing gear. She's very peculiar about the bait she uses. We've even started our own worn farm to grow to feed our habit.
Shared experiences create unique bonding opportunities. So it's important to create those events that connect you and keep you close.
Shared experiences create unique bonding opportunities. So it's important to create those events that connect you and keep you close.
Click To Tweet
2) It provides a clear disconnect from work life.
Here's what I mean.
We both work from home; we're both writers. It's easy, especially for a personality type like mine, to always be in work mode.
Don't misunderstand. We laugh and have fun throughout the day. But when I'm home, I find myself migrating to my office to write down an idea, finish up a project, or outline the next video course. Because my office is just in the other room, it's easy to stay connected to work.
We need a way to turn off work and turn onto one another.
For us, a disconnect happens when we get in the truck, drive to the lake, and step on the boat. It seems to be a finishing touch for that workday.
We don't go to the lake every day, but most often we do. It becomes the period at the end of our workday. It helps us disconnect from one aspect of our life, and turn on another aspect. It's a time for us to talk and communicate.
Which leads to the next point.
3) It provides us with sharing time.
When we're on the boat or in the kayaks, it's usually late in the afternoon. The water is still. The noise is soft in the background. There are no phones, emails, or messages that scream for our attention.
This creates an atmosphere for opening up. As we float along in the water it's natural to drop our guard and share about what happened during our day. We talk about our concerns about situations, pray together, and talk about things that matter.
Many times (most actually) we laugh and share funny things we thought of during the day. It's a perfect opportunity because everything else is cut off. There's no TV in the background. No radio blasting. No podcast going. No 'chirps' from our phone to distract us.
Nothing but the sound of water lapping against the kayak or the boat. It disarms us emotionally and mentally so we open up. Some of our deepest conversations have been on the lake.
It may not work for everyone, but for us, it provides the perfect opportunity to connect.
4) It provides healthy competition.
I want to be careful with this one because we are not highly competitive against each other. That can be dangerous for a relationship. When I say competition. I want you to read healthy competition.
Neither one of us is prone to steal the limelight from one another. We are both content when the other person shines. It is a healthy competition because we have this fun way of trying to outdo each other.
If I catch a big shell cracker, Michelle will worm her way in and cast where I was fishing. We laugh because it's never a competition in the sense of harming each other. It's always a fun-loving way of competing.
I actually like the fact that she usually hauls in bigger fish than I do. I like the fact that if I've caught more than her she wants to stay until she can at least even up. It's something fun for us. It makes us laugh. And it's entertaining.
5) It creates anticipation.
Because it's something we enjoy doing together, we anticipate.
Some times we have days that are especially grueling. We may have deadlines to meet and projects to complete. Fishing gives us something to look forward to. A way to end our day.
It is certainly not our highest purpose in life or marriage. We define that in other ways. But it is something to look forward to, which helps us navigate issues throughout the day. It makes our workday more palatable.
When you have something to look forward to it gives you joy and creates a positive expectation.
Anticipation helps navigate the rough waters of issues, circumstances, and situations that come up throughout the day. When things are stressful, we have something to look forward to. We know we will be able to turn the noise off and do something we enjoy.
When you have something to look forward to it gives you joy and creates a positive expectation. Positive anticipation helps you navigate the rough waters when adversity hits.
Click To Tweet
I've met with couples who do not have that point of anticipation in their relationship. There's nothing they look forward to. Nothing they share together. Nothing they anticipate with expectation in their marriage. It's sad. It creates a profound sense of loneliness.
For Michelle and me, fishing is just one of the little things that give us joy. Sure, it is, certainly not the only thing. In fact, it's a small thing. But we've learned that the little things in life are what creates a great marriage.
Which leads me to the next thought:
6) It's an added enjoyment for our marriage.
By now you understand that we both enjoy fishing. I mentioned before, fishing is not the major purpose for our relationship.
It's just one of the small things that make our relationship rich. Because we share it together. It gives us something to anticipate. It's a little additive that makes our marriage beautiful.
Adding Spice to Your Relationship
My wife is an excellent cook. One of the things that make her excellent is seasoning. She has a knack for taking an average meal, adding just the right ingredients, and presto – delicious food.
A few weeks ago she made lasagna. She knows how much I love Italian food, so it was a treat for me.
I still don't know all the ingredients she uses, but her lasagna is different. Not like any I've ever had. What makes it so great is her own special ingredients. She adds just the right seasons to make it great.
I mention this because seasonings are just a small part of the recipe compared to the number of ingredients in the dish. But… they' are the apart that makes it taste amazing.
In the same way, little things in your relationship are like seasonings. It can either make it taste great or make it taste bad. I found that when marriages fall apart, it's usually not the big things. It's the little things. Those seasonings that weren't right.
Little things in your relationship are like seasonings. It can either make it taste great or make it taste bad. I found that when marriages fall apart, it's usually not the big things. It's the little things. Work to create little…
Click To Tweet
For us, fishing has become one of the nice little seasonings of life.
It's made our marriage just a little better.
7) It's a hobby for us.
Fishing is something we do together. It's also something we can do alone.
Personal time is important for the health of any relationship.
There are times when Michelle needs a day to herself. Because we live and work together, sometimes we just need personal time. Not to disconnect from our relationship, but to connect internally. We need alone time.
To connect better with your spouse, sometimes you need alone time to recharge and connect internally with your heart.
Click To Tweet
If you are a stay-at-home mom with little kids you understand what I mean. It's not that you don't love your children. Sometimes you just need a break for mommy time.
Couples are no different. It's good for my wife to have alone time. Or girlfriend time. It's healthy for me to spend time alone. Or connect with a buddy.
Fishing provides me that opportunity.
Connecting with my Buddy
A couple of weeks ago one of my buddies called and said his college son was home for the week. We wanted to connect so we planned a kayak trip down the Caney Fork River.
It was a beautiful day. The three of us floated the river. We talked. Shared stories and laughed. It was like therapy in a boat. It was awesome. In fact, we have another trip on the books for the coming weeks.
Having a hobby I share with my wife is awesome. Having one I can do by myself is great. Having one I can share with close friends makes it even better.
Wrapping It Up
Every couple needs these ingredients in their marriage to make it the kind of marriage it needs to be. Fishing has become one of those ingredients for us. It's made our marriage rich. It's given us all the above things so we can grow closer. It gives us more intimacy and laughter in our life.
Summary
Here is a recap of the seven things fishing does to help me connect with my spouse.
What's Next?
Is there a hobby or something you share with your spouse that makes your relationship rich? Something that provides you a shared experience, way to disconnect from everything else, and connect? Something that you look forward to?
Here are a few resources that will help you connect with your spouse.
Magic Relationship Words by Susie and Otto Collins [Free Video]
The Healthy Marriage Quiz: Discover Your Marriage Score and Get Details on how to Best Enhance Your Relationship.
Respark Your Romance: Free Video on why men lose interest and pull away and how to reconnect with them.