How can a husband help during pregnancy? It should be the greatest event of your marriage yet often its not. Here's how hubby can help.
As a young father-to-be, I had no idea what to expect. I knew my future (life) would change when my first child was born. I prepared myself for being a dad and working hard to give my new baby a great home.
What I didn't know was how to my spouse during pregnancy. I felt unprepared for the nine months ahead.
Pregnancy changes almost everything in a marriage. It can be one of the greatest marriage enhancers for your relationship, or the most trying experience. It often depends on how husbands help make the transition.
In this article we offer practical, common sense help for husbands when their wives go through pregnancy.
At the end of this article I will give wives a few tips on getting the help they need from their husband.
Let's get started:
1. Empathize With Your Wife
Simon Sinek says there are two things great leaders need to possess. Empathy and perspective.
This is a great message for marriage. These two qualities (especially empathy) is priceless in learning how to understand our spouse.
Empathy is simply the ability to put yourself in someone else's shoes. To understand life from their perspective.
Sinek states:
The real job of a leader is not about being in charge, it is about taking care of those in our charge.

Simon Sinek
Let's apply this to marriage – specifically marriage during pregnancy.
Most people think their job is to take care of their responsibilities. As husband's this might mean making sure the trash is taken out. Or keeping the lawn manicured. You can fill in the blank with whatever your role or responsibility is in making the household run smoothly.
Unfortunately, most of us stop there. We think Our job is to do our job. That's it.
But that's not it.
Our real job is to take care of our mate. Not as a baby-sitter or smothering daddy figure. But as a concerned partner who desires their success. Success equals fulfillment and satisfaction in the relationship.
In essence, it is to live in such a way that we sacrifice willingly for the good of our spouse, and the bettering of our relationship. It is the opposite of self-centered living. The opposite of complacency.
If you can truly understand your spouse, you will uncover the beauty of what marriage was intended by God.
You can watch Simon Sinek discuss this in the video below. It's directed toward business (employers/employees) yet it has such great value in understanding the dynamics of human relationships. There is a great lesson we can apply to marriage.
2. Pay Attention To Her Needs
Paying attention means being aware. It requires understanding the changes taking place in your wife.
It's no secret a woman's body changes dramatically during pregnancy. Unfortunately, most men only pay attention to the physical change. Hormonal changes are happening as well. This can cause mood swings, increased appetite, and even depression.
https://www.webmd.com/women/features/escape-hormone-horrors-what-you-can-do#1
It is important to be aware of these changes. You may not identify with these changes (you'll never experience them as she does because you are a man), but you can empathize. See point #1 above.
If you want more information on the effects of hormone imbalance, we recommend reading the Power of Hormones.
I've often said, most people spell love T.I.M.E.
There is another way to spell it: A.T.T.E.N.T.I.O.N.
There are many ways we can offer our attention.
Ask questions
Shut down social media
Have meals together
Hold hands
Talk more
The list is endless.
The heart of the matter is more than just doing things. It's great to put the short list above into practice. It's a great place to start. Yet attention is a heart issue. Not just doing things.
It's about offering our heart to our spouse. Genuine care and concern. It's all about
3. Give Her Compliments and Encouragement
Monica Lalanda posted this image on Twitter.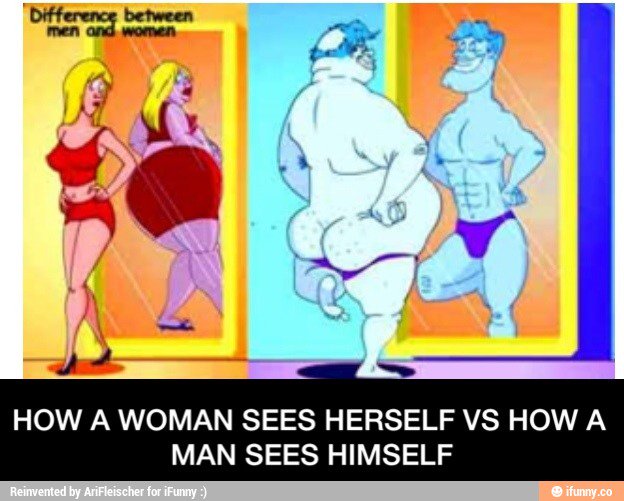 Makes me laugh every time I see this. It's a little stereotypical, yet makes a great point. Men and women tend to see ourselves differently.
How does this apply to marriage? Or marriage during pregnancy?
At times it will seem like everything is amplified. If your wife felt insecure before pregnancy, chances are it will be magnified during.
One of the best ways to partner with your spouse during pregnancy is to encourage her.
We each have our own 'love language' – the way we respond to love the best. Yet everyone needs and desires encouragement. We all appreciate a compliment.
One of the best ways to partner with your spouse during pregnancy is to encourage her. When we encourage our wife, we breath heart into them. We offer support and help.
Click To Tweet
The word encourage is an old French term that originally meant to make strong. In a literal sense it implies to put heart into something (someone). It's similar to the word inspire which means to breath into.
When we encourage our wife, we breath heart into them. We offer support and help.
It is amazing how a simple gesture or word of praise creates hope and confidence. One word of praise can change a persons mood and perspective.
4. Ask For Direction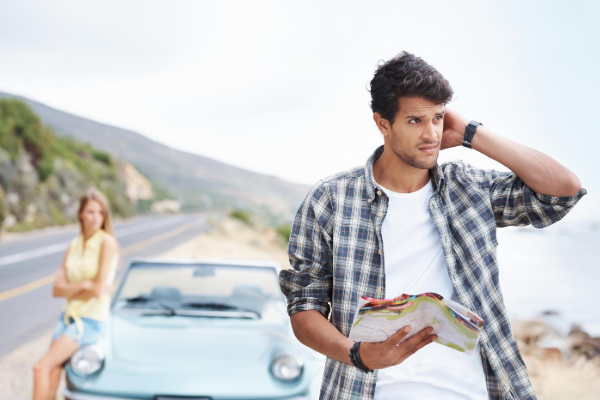 Men are often accused of not asking for directions (which is probably truer than we dare admit), yet this is one time you should stop and simply ask what you can do to help.
Asking for directions is not a sign of weakness or admission of failure. If done with the right attitude it will most likely be seen as a gesture of love.
WARNING: Only ask if you plan on following through. Failure to act when you have asked only damages your reputation and integrity.
5. Offer to Listen
Men and women process information and change differently. In fact, each person is unique in how they manage transitions in life. It's important to work together to find the ideal balance in how to navigate pregnancy so it is a highlight of your marriage.
One of the best ways to do this is listening.
I've found when I simply offer to listen to my wife, it relaxes her and let's her know I'm present and willing to share the experience with her.
You may want to start by saying: Is there anything on your heart you want to talk about during this time?
Just knowing you care enough to ask will give her assurance you are in this together.
6. Don't Be A Jerk
I feel like pulling a 'Jeff Foxworthy' type monologue on 'You might be a jerk husband if…'
Complain about how tired she is
Pressure her for sex
Allow your needs to trump hers
Demand…you get the point!
I'll spare you the full routine. But please take note of this: Check your complaints at the door. Especially during this season of your marriage. Your wife is going through enough. She doesn't need the added pressure of a bad attitude.
It should be the goal of your relationship to eliminate complaining at all costs. It never produces the change you desire and creates a climate of distrust, frustration and resentment.
ALSO READ: Does Your Wife Feel Valued?
It should be the goal of your relationship to eliminate complaining at all costs. It never produces the change you desire and creates a climate of distrust, frustration and resentment.
Click To Tweet
7. Lower Your Expectations
I'm not suggesting wives get a pass on having a bad attitude, but men need to realize the changes taking place in your spouses body are significant.
I know women who felt better than ever during pregnancy. If this is your spouse, that's great for both of you.
If that is not the case, make sure you allow for changes in your roles and responsibilities.
For example, if you are a two family income household, I'm sure you have outlined who is responsible for certain tasks. Meal planning, cooking, and cleaning can be taxing during this time. If your wife is generally the one who takes care of those things, work to help lighten the load.
Each household is different. My wife and I have our specific tasks we take care of. I like outdoor work so I take care of the lawn, landscaping, car and boat maintenance. She takes care of meals and most household items.
That doesn't mean I don't help with household stuff; I do. And she loves to work with our flowers (those are her babies), so we work together.
The goal is to work together to make your house a home. During pregnancy adjustments have to be made so things continue to run smoothly. Be considerate and lower your expectations.
No one wants a spoiled hubby who is demanding and expects things to be the way they were before pregnancy. It's unrealistic and selfish.
Reminds me of the modern spin on the Beatitudes (Matthew 5:3-10): Blessed are the flexible, for they shall not get bent out of shape.
That's good advice in all seasons. Not just pregnancy.
How Can A Wife Help Her Husband Help Her?
That question is not meant to be a tongue twister or trick. Many times husbands need help knowing how to help.
Here are three things a wife can do to help her husband get in the game:
1. Be clear but not bossy
Men actually don't mind receiving direction (and even correction) if it's done in the spirit of love and acceptance. We are not much different than women in this. Everyone wants to be appreciated and liked. Kindness goes a long way.
2. Be Patient.
This is new to us too. We want to help, but it may take us a while to get the hang of all the changes.
3. Understand Our Needs Too
It's easy for all of us to get caught up in our world. It's natural. But if we get stuck only thinking of ourselves, we miss an opportunity to grow and connect on a deeper level. This applies to both men and women; husband and wives.
Just as it is a husbands role to help during pregnancy (or any life transition), wives must learn to enter their husbands world as well.
Life is much sweeter when we step our of ourselves and truly walk in our spouses shoes. This is the nature of a healthy marriage.
If you haven't read the story of 'The Men With No Elbows' you might want to read it now. It explains a lot about giving and taking.
Wrapping It Up
How Can A Husband Help During Pregnancy?
While husbands will never experience the hormonal changes, physical adjustments and growth of a living being inside of them during pregnancy, there are ways to partner with their spouse to make it a great experience.
We discussed seven things a husband can do to help his wife.
Summary
Just to recap: Here are 7 things a husband can do to help during pregnancy.
What's Next?
The Healthy Marriage Quiz
If you want specific help for your marriage, or you want to know your healthy marriage score, take the marriage quiz. You'll get immediate access with suggestions on how to improve your relationship.
If you are having serious marriage struggles, we recommend starting with 'Save the Marriage System' by Lee Baucom.
Magic Relationship Wordsby Susie and Otto Collins
The Devotion System This free video will show you why men pull away and what you can do to enhance your relationship.