Ever feel like you just can't get things right?
You try. But come up short.
I know I do.
Reminds me of Eve Dubois. You probably don't know her.  Not much notoriety, unless you watch Family Feud in Canada.
She was in the final round playing for $10,000 and just couldn't get it right. Neither could her competitor. At least for the first few rounds of the sudden death match.
But then Eve missed what should have been obvious.
Here…
I'll let you watch for yourself.

Courtesy Family Feud Canada
I've been there. Have you?
When the obvious stares you in the face but you just don't see it.
Reminds me of a couple of stories I recently heard:
Story #1: You Should Leave
A guy tells about being at a party the girl of his dreams…
"So the girl kisses me in the dark at her birthday party and says, 'You should probably leave before we do something stupid.' I nodded and left.
Obvious Miss!
Story #2: Strawberry Lip Gloss
A couple is watching TV late one night. She applies strawberry lip gloss. He asks, 'Why are you applying lip gloss?'
Her: 'The strawberry tastes great! Want to taste?'
Him: Nah! I already know what strawberry tastes like!'
Obvious Miss!
And my favorite…
Story #2: Go Take A Shower
Couple getting ready in the morning. She flirtatiously says, 'You know, we could shower together this morning and save water!'
He says: 'Why? We don't pay for water.'
Obvious Miss!
Makes me wonder about the male species.
Those are the funny misses. There are some 'not so funny' misses guys make in marriage that can actually hurt the relationship.
By the way, this post contains some affiliate links to products that I use and love. If you click through and make a purchase, I'll earn a commission, at no additional cost to you. Read my full disclosure here.
I've put together a list of 5 obvious misses men often make in their relationship.
Don't let these happen to you:
Obvious Miss #1: Forgetting Special Days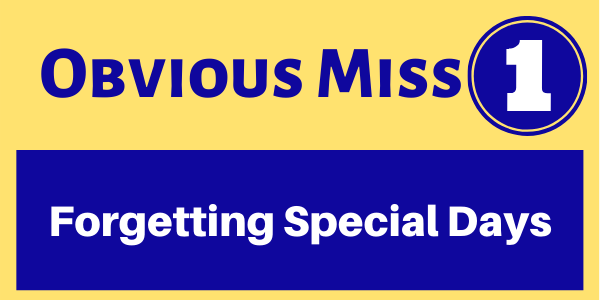 This is the truly obvious one. Yet I hear horror stories about husband who forgot their anniversary. Or Valentines Day.
I know there is no law about how to celebrate certain events. Everyone has their own traditions.
For example, my wife I love Valentine's Day more than other holidays. We enjoy Christmas with the kids and grand's, but our favorite special day is Valentines.
We have our tradition about how we celebrate. It may be different than yours, but the point is, we celebrate it.
There is no rule saying you have to acknowledge these special days, but it is an opportunity to connect and demonstrate love.
There is no rule saying you have to acknowledge special days like Valentines, Anniversaries or even Christmas and New Years... but it is an opportunity to connect and demonstrate love.
Click To Tweet
Fact is, most women DO have desires and expectations on those special occasions. Heck, even most guys do. So don't let the obvious slip by.
How To Remember Special Days
It doesn't take rocket science to fix this.
Get a calendar and note those special days. But don't just put a reminder the day of; instead give yourself a notification one week out. This way you can plan an event, buy a card or flowers, and make the night special.
Don't over complicate it. And don't miss the obvious.
Obvious Miss #2: Trying to Fix Instead of Listen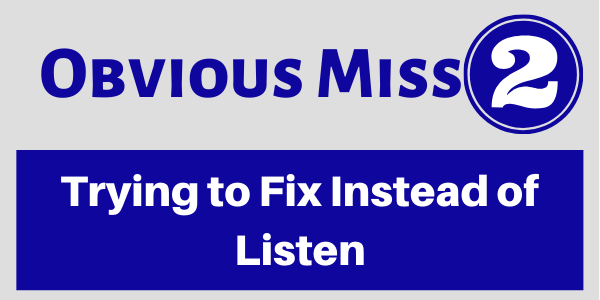 This one is easy to get wrong.
After all, if there is a problem, surely offering a solution makes sense. Right?
Not always.
I've been told more than once: "I don't want you to fix this. I just want you to listen!"
You'd think I would learn.
What makes it tricky is there ARE times when my wife wants a solution.
I'm standing there 'listening'…offering nothing but a shoulder to cry on and an ear to listen when I hear; "Well, what should I do about it?"
I'm dazed. Confused. Flustered. Yep. That's a real word. Look it up. Never mind. I'll save you the trouble:
Seriously though…
It's important to understand the difference in how men and women think and process information. Studies show there really is a difference in how we are hardwired.
It's important to understand the difference in how men and women think and process information. Studies show there really is a difference in how we are hardwired.
Click To Tweet
To drive this home, check out this video on the difference in Men's Brains vs Women's Brains. (Very Comical…but Nails It)
Knowing this can keep you from missing the obvious.
Richard Nesbitt and Barbara Annis examined gender differences and tendencies. (Book: Results at the Top: Using Intelligence to Create Breakthrough Growth) Note: This is an affiliate link.
They found: (Source)
Women use feelings (intuition) to approach issues; men use logic.
Men tend to define, clarify, isolate and eliminate options when problem solving; women tend to talk out their problems.
Men depersonalize and externalize issues; women personalize and internalize.
Women's brains gravitate toward emotion and intuition; men toward facts and logic.
Women have a higher rate of anxiety than men.
Men are good at focused project management; women are good at holistic thinking.
Men tend to need space after a hard day; women need to need social support.
This is just a partial list, but I think you get the point.
Men and women process things differently. This causes men to want to fix a problem instead of talk about it.
How To Listen and Not Fix
I do not want to leave the impression that all the pressure is on the husband to get this right.
Wives must be understanding of 'our wiring' as much as men need to understand theirs.
Guys often get this wrong. They miss the obvious.
One way to get better at this is simply slow down. Focus on why your wife is communicating this information instead of what you can do to make it better.
Always ask 'why?'
Why is this important to her?
Why does she care about it?
Why would this trouble her?
Why does she feel this way? What's underneath this concern?
Understanding this will help you shift gears to listening mode rather than problem solving mode.
Obvious Miss #3: Catching Dreams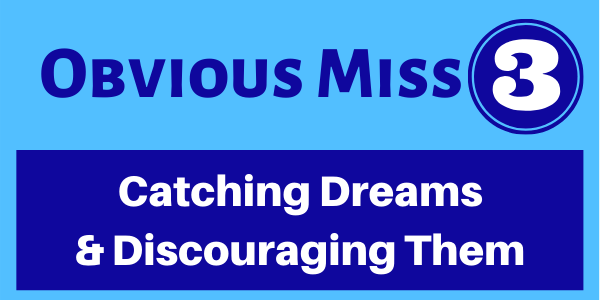 I'm sure you've seen a dream catcher. 
They are ancient native American art believed to have originated from the Ojibwa Chippewa tribe.
They were traditionally used as a charm to protect sleeping people, usually children, from bad dreams and nightmares. 
How This Applies To Marriage
Sometimes husband act as a dream catcher.  We try to protect our spouse from the pain of disappointments (bad dreams), or we trap their (good) dreams instead of helping them find fulfillment.
Catching dreams can be a good thing IF you share, inspire and encourage them. 
For example:
Your wife comes to you with a 'dream' of something they desire and want to see happen.
Too often the 'logical side of the brain' automatically presents the list of why it won't work, how much it will cost, or even worse, you don't have the talent to do that.
Bad move.
How To Be A Dream Encourager
Our role as husbands is to inspire our spouse to be everything they were created to be.
Sure, there is a time to look at facts and involve 'logic.' But we shouldn't lead with that.
We should lead with: 'Tell me more about why you want to achieve that dream. What does that mean to you.'
You'll find most often we all [not just women] want to verbalize what is going on inside of us. Many times those dreams are clues about things that matter most to us.
We all need to verbalize what is going on inside of us. Many times those dreams are clues about things that matter most to us. The key is to encourage those dreams, not toss them aside.
Click To Tweet
Explore them. Don't catch them and toss them aside.
Obvious Miss #4: Forsaking Emotional Connection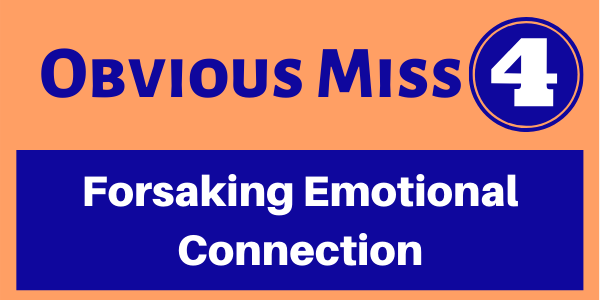 One of my favorite concepts on building a strong marriage is from John Gottman.
It's the idea of responding to our spouses bid for attention, connection and affirmation. I've talked about this here and here. 
Here's the premise:
We all desire emotional connection. Yes. Even men. It's a colossal myth that men are detached. If your husband is, I suggest finding out why. It is human nature to desire connection.
Throughout the day we make a bid for our spouses attention.
It can be something as subtle as a comment, 'I fell a little overwhelmed.'
That's a bid for attention. Not attention in the sense of a two year old demanding you recognize them or throwing a temper tantrum; Rather, it's the adult version of 'I need affirmation and connection.'
Once the bid is placed, just like in poker, it's time to show our cards. Sorry for the poker illustration. It's time to respond.
What do you do with that bid for connection? Do you ignore it? Wonder why they feel so overwhelmed? Or ask a question to explore their feelings.
According to Gottman, healthy marriages are the ones where spouses recognize and respond to bids by offering more connection.
It doesn't have to be a two hour conversation about what they are feeling. It can simply be a hug. Or a touch on the arm with a caring comment, 'I'm sorry honey. Is there something I can do?'
Generally speaking, that's all that is needed. Yes, there are times where a deeper response is necessary. But for the most part, our spouse simply wants to know we are in it with them. We care. It matters to us.
Those bids present opportunities to connect.
How To Engage Bids for Attention
First, you need to pay attention to the bids your spouses gives.  They come almost daily because we all crave connection.
Second, give attention.  Focus on what is communicated and ask questions. It's really not difficult.  It's 'How To Care 101.'
Third, understand that those little connections build bridges for your marriage.  Even the small connections build strong bridges that allow us to reach each other in more demanding times.
If we fail to build those bridges when the bid is made, it is much more difficult in the when tough times happen.
Obvious Miss #5: All I Need To Do Is Provide Well
Providing Is Not Enough!
Don't get me wrong. I like traditional roles for men and women. I realize that conjures different images depending on your politics, upbringing, and nationality.
I know what I mean by the statement, but I don't know what you think when you hear it.
I like masculine, strong men. By the way, my wife does too.
I'm spiritual. Intellectual (well, some may argue otherwise so let's just say I'm well read). Thoughtful and kind.
I like to open doors for women.  [Why women find offense in that is beyond me. I do it because of who I am, not who you are.]
I like to know I'm providing well for my family. I want my wife to feel secure. And know our future is bright.
That doesn't mean she is not capable of taking care of herself. She is.
It doesn't mean 'the little woman needs me to provide for her.' She doesn't.
I does mean that I love her and don't want her to worry about her needs.
To me, that's just being a good husband and father.
Anyway…
Where tradition fails is here: women need more than that.
It used to be that men could be a good provider and that was enough (I'm not sure how sold I am on that premise, but I think men thought that way for a long time). It is not enough. Especially in today's world.
Jason Lang, creator of evolutionary.men puts it this way:
Things have CHANGED, and it's no longer enough to just "provide and protect". Modern woman need more from you than that.

They also need you to FEEL and FREE them.

They need to FEEL, physically, emotionally, and spiritually with them. You can't just be a task completed robot that shows up and does things. You must learn to be present so completely that you can drop into complete attention with your partner, sensing her from her inside out.

Then not only that, once you've FELT her and what's happening at the deepest level in any moment, you must consciously use your presence to FREE her.

I don't mean free her in the pejorative sense, she's a grown ass woman that can take care of herself. I mean free her in the loving sense by grounding her into the moment and allowing her to relax, feel safe, and truly be herself. You must free her HEART as so many woman have been hurt so many times by so many men they have to walk around on guard protecting themselves.
Wrapping in Up
Most men really want to be better husbands.
That said:
I want to issue a warning to women. Please do not send this to your husband without having a conversation first.
The last thing you need to do to your husband is blind side them with a subtle (or not so subtle) nudge to manipulate him and sneak something across his email.  
Most of the time, men know when they've missed it.  If you manipulate or judge him, he will only set it aside and ignore it. It's easy to think sending your husband a link to this article so he will 'finally get it' might be helpful. But it won't.
If you want him to read it, show it to him and ask for a conversation about it.  Most often that will do the trick.  No games.  No subtle innuendo's.  Just honestly and transparency.
We've cover five ways men miss the obvious. Here they are again:
Forgetting Special Days
Trying to Fix Instead of Listen
Catching Dreams
Forsaking Emotional Connection
All I Need To Do Is Provide Well
It's your turn now.
I'd like to hear from you. Leave a comment below and let me know your take.
If you think this article is helpful, click the social share buttons below and pass it along.