Trust is the foundation of a healthy relationship. That's why trust in marriage is crucial. Whatever threatens or diminishes it, should be dealt with quickly and thoroughly.
In his book The Marriage Builder, Larry Crabb tells the story of Bob and Mary. Both of them are insecure, fearful and unsure their needs will be met. They enter a vicious cycle of defeat.
Here's how Dr. Crabb describes it:
The vicious cycle has begun. The more Bob retreats comma the more Mary's fear of rejection increases. The more her fear increases comma the more she attempts to manipulate Bob to protect herself. The more she tries to change him comma the more she communicates did Bob is failing. And the more his sense of inadequacy grows.
The dreary cycle continues until 2 lonely people find themselves hopeless. Trapped behind thick walls of their own making that keep them from ever really touching each other.
This sad scenario is played out time and again in marriages around the world.
What breaks the cycle?
In a word, trust.
When we trust our partner, we are free experience deep love. Without that trust, we will never know the love that marriage is designed to express.
This post contains some affiliate links to products that I use and love. If you click through and make a purchase, I'll earn a commission, at no additional cost to you. Read my full disclosure here.
11 Inspiring Quotes on Trust in Marriage
Since trust is important to marriage, these 11 quotes will inspire you to create a strong foundation of trust in your relationship.
You can watch a video summary on YouTube.
#1 The Glory of Friendship
The glory of friendship is not the outstretched hand, not the kindly smile, nor the joy of companionship; it is the spiritual inspiration that comes to one when you discover that someone else believes in you and is willing to trust you with friendship.
Ralph Waldo Emerson as Quoted in Goodreads

#2 The Need for Inward Security
If a woman knows nothing of inward security and sees no hope of finding it, she cannot give herself to her husband in the way the Bible commands…
Larry Crabb, The Marriage Builder, Page 20 [Amazon Link]

#3 Live to Show Value
You must live in a way that let's your spouse know they are the most valuable person in your life – even above yourself. Then and only then will they trust you.
Joseph Nolan, The Healthy Marriage
#4 Trust is the Building Block
Trust is the building block of a relationship If you don't trust, you hinder your ability to truly love the other !
Quoted in Marriage.com

#5 Trust Overcomes the Resistance
The natural resistance to truly giving ourselves to the other is rooted in our stubborn fear that if we really give, with no manipulation purpose, we will be short changed. Our needs will not be met. At best, we'll be disappointed; at worst, we will be destroyed.
Larry Crabb, The Marriage Builder, Page 58
Related Article: 5 John Gottman Quotes on Trust in Marriage
#6 Trust is Like Glue
Trust is the glue of life. It's the most essential ingredient in effective communication. It's the foundational principle that holds all relationships.

Quoted in Marriage.com
#7 What Makes Marriage Unhappy
It is not a lack of love, but a lack of friendship that makes unhappy marriages.
– Friedrich Nietzsche

#8 The Ingredients of Love
A passionate love does not necessarily translate into a happy marriage. Marriage needs more ingredients than just love, and friendship is one of them. A solid friendship between two lovers says more about their compatibility than a passionate, ardent love affair.

#9 Nothing Better Than A Good Marriage
There is no more lovely, friendly, and charming relationship, communion or company than a good marriage.
Martin Luther King
Unlike family relationships or friendships, marriage is unique because it involves conscious choice, lifelong commitment, common goals and very high compatibility. That is why when a marriage is successful, it becomes more fulfilling than any other type of relationship.

#10 Resentment
Resentment develops when you repeatedly feel unheard, dismissed or feel that a spouse puts other interests ahead of you and the marriage.

Unknown
#11 Your Spouse is Your Priority
If you let her know that she is your priority and remind her from time to time how much you care, you'll be amazed at how many problems disappear in your relationship.
Unknown
Related Article: 5 Ways of Building Trust in a Relationship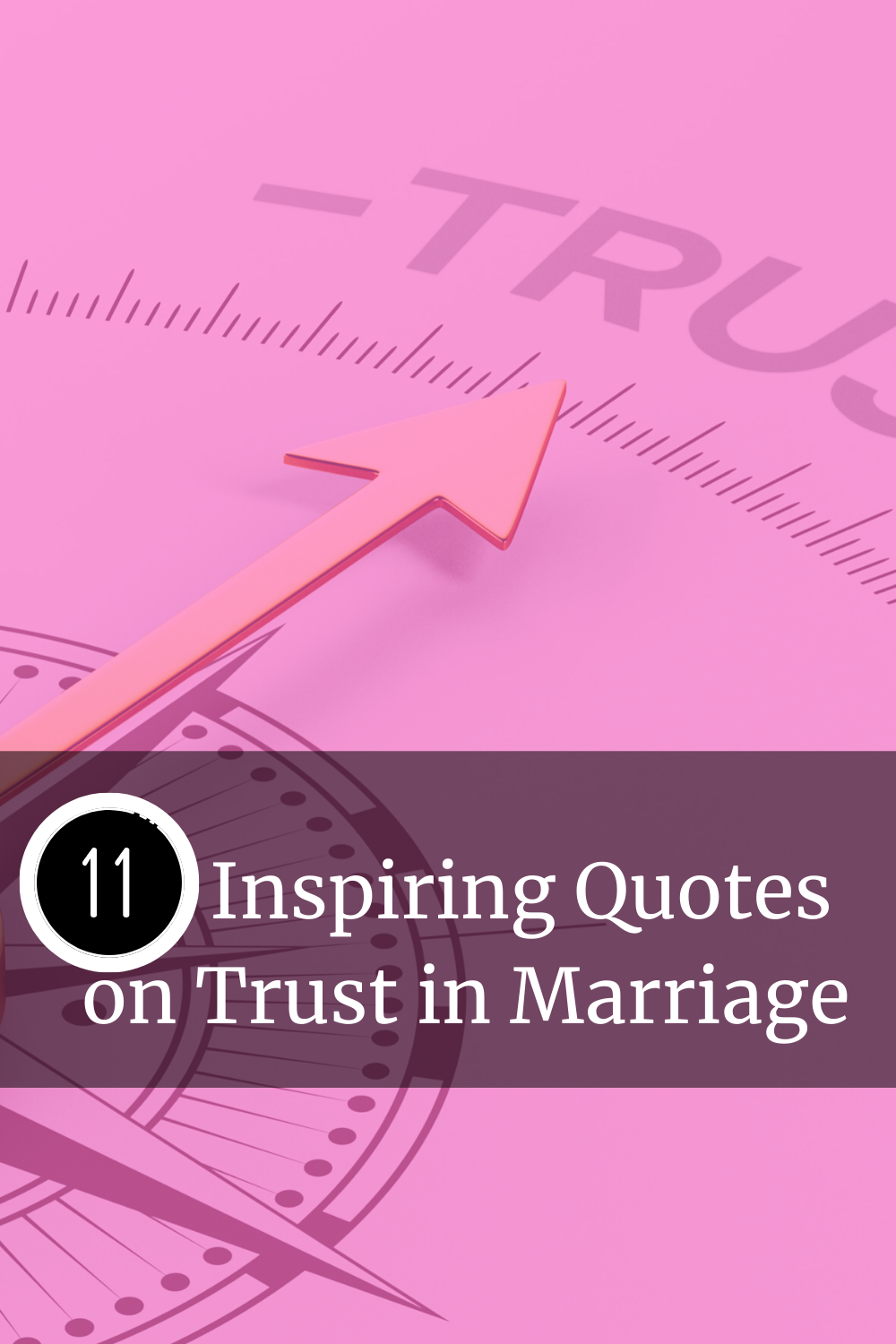 How Do You Build Trust?
It's one thing to understand and value trust, but how do you build trust in marriage?
It starts with a commitment to create an atmosphere of emotional safety in your relationship.
If trust was a chair that had four legs, what would those legs be?
Leg #1: Safety
When we know we are safe emotionally, we are free to risk being vulnerable.
Being open, vulnerable and transparent are essential elements of feeling truly loved.
Safety ensures that we will be ourselves and not play games with our identity.
It lets us be what we were created to be because we know we will are safe to do so.
Leg #2: Acceptance
Michael J. Fox once quipped, 'Acceptance is not resignation.'
Acceptance comes with an unconditional guarantee. A promise that you are celebrated, not tolerated.
It is not a passive resignation of average; it is belief
When the Apostle Paul told the believers at Ephesus they were 'accepted in Christ,' he used a word that meant 'highly favored.' (Source)

This is the attitude of acceptance we should offer our partner.
Leg #3: Responsibility
Responsibility means that we take ownership of our relationship. We refuse to place blame and expect our spouse to do all the work period
It requires an investment in our relationship.
I've told the story of 'people with no elbows' before. The punch line is without elbows we can't feed ourselves; we are dependent on one another.

This is the heart of responsibility. We take ownership of our spouses needs and commit to meet those needs.
Leg #4: Forgiveness
We all miss it at times. We goof up. Say things we should say and do things we shouldn't do.
Knowing forgiveness is available gives us the security to own our failures and grow from them.
It's when we aren't sure we will be forgiven that we justify them and fail to take responsibility.
Knowing we will be forgiven creates a climate that ensures we won't be abandoned, rejected or set aside.
Wrapping It Up
You cannot love what you do not trust. It's a prerequisite for producing openness, transparency and vulnerability that makes love possible.
Summary
Here's a summary of the 11 quotes:
The Glory of Friendship
The Need for Inward Security
Live to Show Value
Trust is the Building Block
Trust Overcomes the Resistance
Trust is Like Glue
What Makes Marriage Unhappy
The Ingredients of Love
Nothing Better Than a Good Marriage
Resentment
Your Spouse is Your Priority
Then we closed with looking at how to build trust:
Safety
Acceptance
Responsibility
Forgiveness
Questions
It's your turn.
Do you have a favorite quote on trust?
Do you feel your marriage has a strong foundation of trust?
I'd like to know your thoughts.